Phulala Sugandh Maaticha, June 25th, 2021, Written Updates Of Full Episode: Jiji Akka Finds A Friend In The Competition
Before the commencement of the grand finale, the host asks the family members to of contestants to say a few words for them. When there's no one to speak for him, Sandy gest a surprise as his sweet auntie comes forward to talk.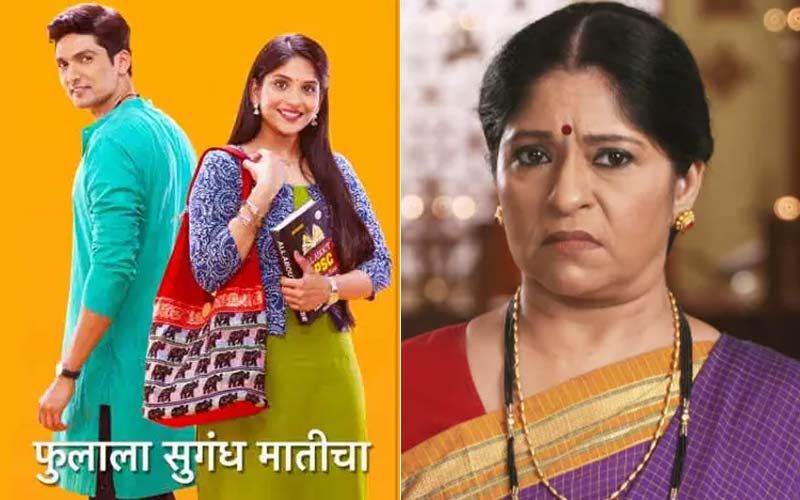 Shubham advances to the grand finale. Everyone congratulates him, but he faces a strong competition from Lily as she refuses to acknowledge him. Being unhappy on Shubham's win, Lily challenges Shubham and he gladly accepts her challenge. On the day of grand finale, Shubham leaves for the competition after getting blessings from his parents.
Now, in today's episode of Phulala Sugandha Maaticha the host gathers everyone before starting the grand finale. Praising the efforts of all the contestants, he tells everyone that the finalists will be competing against each other in a separate room. And their family members will be sitting in a different room while watching the contestants on a screen.
Back in Mumbai, Sonali gets her plan into action. After cutting the buttons of Rajkumar's shirt, she brings threads and needles to her sister in order to make her create a good impression in front of Rajkumar. But Janhvi appears in front of them. Seeing needle in Kalpana's hands, she calls Tushar to bring his torn shirts and asks Kalpana to sew them for him. Meanwhile, Raju brings them already sewn shirts. While Sonali wonders how his shirt got sewn, he reveals that Bhingri sew his shirts for him. As he's leaving for Temple, Sonali asks him to take Kalpana along with him. But when Bhingri tries to tag along him, she makes her do the house chores.
Back at the competition, after letting everyone know about the grand finale. The host asks the family members of the finalists to come to the podium and talk about them. As he asks Kiran to come first, Kiran praises Lily and wishes her luck for the finale. But when he turns over to Sandy, Sandy tells him that he doesn't have anyone and he's an orphan. Hearing his words, Jiji Akka gets emotional and stands up. Coming to the front, she talks about him and tells him that he's also her son like Shubham. Hearing Jiji Akka's words even the host gets emotional. After that he asks Shubham's relatives to come. Giving Shubham their blessings, Bhau and Jiji Akka praise him. And seeing that Kirti isn't saying anything, the host asks her to come to the podium while calling her Shubham's main support pillar. Kirti comes to the podium and returns to her seat after only saying "Wo Ai Ni".



Image Source: Instagram/fulala_sugandh_maticha_oficial, hotstar