Phulala Sugandh Maaticha, September 06th, 2021, Written Updates Of Full Episode: Tushar Lashes At Jiji Akka, Blaming Her For Being Biased
Phulala Sugandh Maaticha, September 06th, 2021, Written Updates Of Full Episode: Tushar Lashes At Jiji Akka, Blaming Her For Being Biased. Jiji Akka gets saddened by what her own son said to her.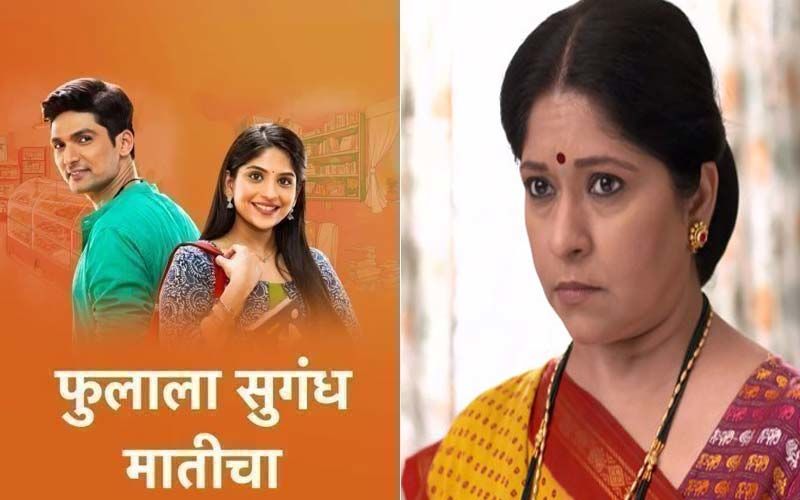 After Kirti telling Shubham that she has forgotten about her dream, Shubham and Kirti barely talk to each other. Further, Jiji Akka listens to Shubham as he opens up his heart to Bhau. Knowing that he won't give up until his wife's dream is achieved, Jiji Akka feels trouble. On the next day, Janhavi's soon-to-be in-laws visit the Jamkhedkars and ask if they could borrow Janhavi with them. Knowing what Jiji Akka would say, Dilip asks Tushar to tag along with Jnahavi, making Jiji Akka agree.
While Kirti is talking about Janhavi's entrance test, Jiji Akka hears her say that it's the last date of application. Thinking that Shubham would also try for Kirti's application, Jiji Akka asks Shubham to accompany Janhavi instead of Tushar. Tushar gets upset by this decision but agrees quietly.
Now, in today's Phulala Sugandha Maaticha episode, Kirti confronts Sonali, as she tries to taunt her. Sonali raises her voice at Kirti, as Kirti confronts her. But being there at the moment, Jiji Akka scolds Sonali for raising her voice at Kirti and asks her to leave. Then Jiji Akka asks Kirti to come to help her in the kitchen. Then when Kirti goes to help her, Jiji Akka asks her to prepare the sweet dish Haav for the occasion of Shravani Somvar. Further, Bhau asks Jiji Akka if there's something special to eat. After a while, Jiji Akka visits the kitchen to prepare tea. As she glances at the vessel, Jiji Akka sees that Kirti has used gram flour instead of wheat. Jiji Akka then scolds Kirti for that and also yells at Bhau as he tries to take Kirti's side. As soon as Bhau leaves them alone, Jiji Akka tells Kirti not to worry and asks her to prepare Laddoos. She then asks her to prepare the Haav in another vessel. As Kirti seems to be lost in her thoughts, Jiji Akka asks her to get back to work.
At his store, Vikram is attending a customer, when Sonali brings tea for him. As they get to the payment, the customer suggests Vikram upgrade his payment options and keep a card machine to him. While paying him, the customer starts telling Vikram how his first trial at the ATM was. Hearing about his incident, Sonali starts talking about her experience. But as she quickly realizes that she's messed up, Sonali changes the topic. After the customer leaves, Vikram asks Sonali how does she know about the ATM even though she doesn't have a card. Sonali escapes the trouble for the time being, as she makes an excuse. But Vikram starts doubting her even more. Back at home, Kirti offers the sweet dish to Bhau and Jiji Akka. While tasting her sweet dish, Jiji Akka praises her and asks her to tag along with her when she is in the kitchen. Kirti then tells Jiji Akka about the last date for the application of Janhavi's entrance exam. Jiji Akka then asks Tushar to take of that, but Tushar denies her on the spot. He then lashes at her saying that if she doesn't trust him with responsibilities, why is she asking him to do this. Tushar then hurts Jiji Akka more by telling her to ask Shubham her responsible child to do her work and leave.
Jiji Akka gets shocked by what her own child said to her and falls down. Kirti and Bhau try to comfort her and ask her not to think about it. But Jiji Akka asks Kirti to go and apply for Janhavi's entrance. Meanwhile, Jiji Akka talks with Vikram, when Sonali is about to leave for Chitravati's office. Back in her room, Kirti tries to contact, Janhavi as she doesn't find her document. But as she is talking with her soon-to-be in-laws, Janhavi doesn't answer the phone. Then Kirti tries calling Shubham.
Image Source: Hotstar