Phulala Sugandh Maaticha, September 24th, 2021, Written Updates Of Full Episode: Kirti Sneaks For Her UPSC Class
Phulala Sugandh Maaticha, September 24th, 2021, Written Updates Of Full Episode: Kirti Sneaks For Her UPSC Class Further, a taxi driver tries to trick Kirti.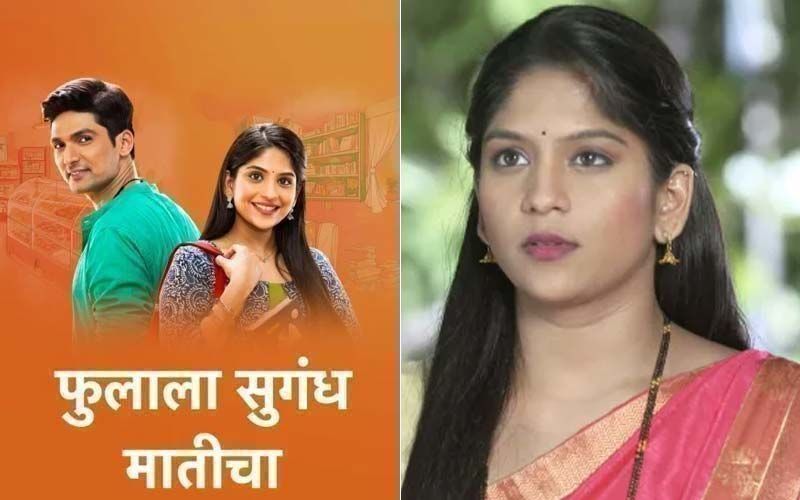 Kirti successfully stops Shubham from ruining his life. Jiji Akka and Bhau get happy by Shubham's decision to deny the deal. While Shubham's siblings try to humiliate Kirti for Shubham's decision. But Jiji Akka shuts them down. Further, Kirti promises Shubham that she won't let his efforts go in vain and will become an IPS officer for sure. As Kirti's journey of becoming an IPS officer starts, she worries about lying at Jiji Akka, but Shubham tells her not to worry.
Now, in today's Phulala Sugandha Maaticha episode, Shubham calls Kirti, asking her where she is. As she's about to sneak out of the house, Jiji Akka stops Kirti and asks her where she is. As Kirti looks surprised, Jiji Akka tells her that Kaki Saheb called her and invited for a wedding. She also asked Jiji Akka to prepare 10 kgs of Laddoos. As Jiji Akka finds Kirti, she asks her to help. Meanwhile, Shubham waits for Kirtin and when it gets late, he returns to see what's taking her so long. Reaching home, Shubham finds Kirti helping Jiji Akka. As Jiji Akka notices him she asks if his work is done. After that Shubham asks Jiji Akka to rest and tells her that he'll prepare the Laddoos. Agreeing with him, Jiji Akka goes to her room and Shubham asks Kirti to get ready. When Kirti asks Shubham how will he manage both taking her to class and preparing laddoos. Shubham replies saying that he'll take her there and will return home to prepare the laddoos. Kirti then tells him that she'll go alone. With hesitation, Shubham agrees to let her go alone.
As Kirti leaves, Shubham shuts the door and Jiji Akka catches him. Not giving him a chance to speak much, Jiji Akka goes to the kitchen to see what Kirti is doing. As she doesn't find her, Jiji Akka inquires about Shubham. Shubham tells her that Kirti has gone to her room. Shubham then distracts Jiji Akka, but Jiji Akka goes to Shubham's room to get the ingredients for Laddoo. As she puts the light on, Jiji Akka doesn't find Kirti. On the other hand , Kirti doesn't find an auto and gets late for the class. After a few auto drivers say no, one taxi driver stops in front of her and asks her to sit. As Kirti recongnizes his intentions are wrong she says no, but the taxi driver stays there. Meanwhile Jiji Akka hears Bhaus voice as he yells in pain. Jiji Akka asks him what happened and Bhau tells her that he needs to use the toilet but someone is already inside. Fortunately Jiji Akka thinks that Kirti is inside and the situation calms down a bit. Then she continues to help Shubham prepare the laddoos. Further, the taxi driver waits near Kirti and left with no choice, Kirti sits in his taxi as she's getting so late for the class.
After a while Sonali comes out of the toilet and Jiji Akka doesn't see her. Thus, Shubham keeps her busy with laddoos. Further when they're done with laddoos, Jiji Akka goes to her room and Shubham tries to contact Kirti. While he calls her Jiji Akka catches him and inquires who he is calling at this hour. Shubham then makes an excuse, sending Jiji Akka to the room again. Meanwhile, the taxi driver takes a different route, but Kirti realizes that. Realizing his intentions, Kirti asks him to turn, but the driver doesn't listen to her. After going further ahead, the driver stops and asks her to get out of the taxi.



Image source: Hotstar