Shalmali 's New Song With The Famous Band InstruMen Releasing Today On YouTube
Shalmali, the rockstar of Marathi Industry is collaborating with the Capella band InstruMen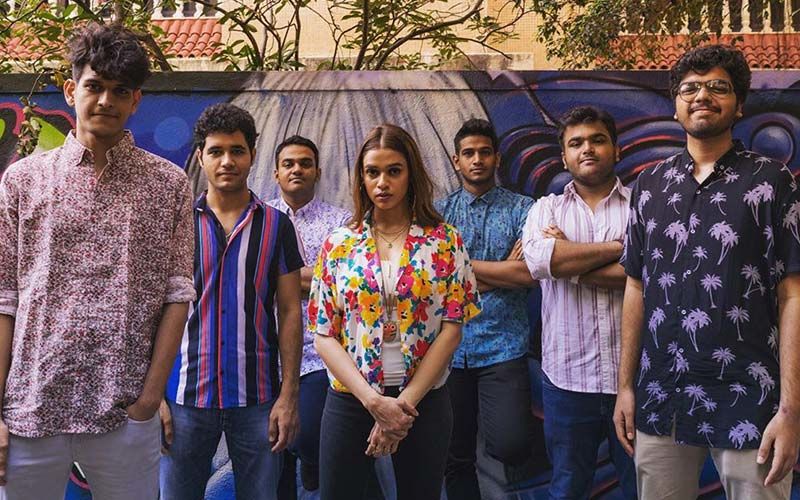 Shalmali has been a breath of fresh air in the playback industry of Marathi as well as Hindi music. Her style of music is unique from what we have seen in the industry. While 'Pareshaan', 'Balam Pichkari', 'Besharmi Ki Height' etc are the famous Hindi tracks in her kitty, she has also sung for various peppy numbers from Marathi films like 'Happy Journey', 'Pune 52', 'Baaji', 'Carry On Deshpande' and 'Girlfriend'. Her recent Bengali song for Oriplast Originals on SVF's YouTube channel, 'Aajo Cholechi' was also accepted widely.
This multi-talented singer is now collaborating with InstruMen, a Capella band that creates entertaining music through beatboxing. They have created a number of mash-up songs on their YouTube channel combining two or more melodies into a fresh new track! It will be a novelty to hear Shalmali's versatile voice in a beatbox backdrop.
Shalmali recently took to Instagram to share a poster of their album cover:
Shalmali poses with the boys in an atypical style that will remind you of the legendary pop music band posters from '80s. Nathan Miles, Arish B, Shaurya Singh, Aseem Trivedi, Akash Roza, and Dean Sequiera are the Instru-'Men' from the band. The 'InstruMen' band is a capella group of these 6 men who are passionate about giving the audience an out worldly experience through their music. They compose music in all genres like Jazz, Hip-Hop, Classical, Reggae, RnB, Indian Classical and even Sufi.
The new song is a mashup of Dua Lipa's New Rules with Shalmali's Balam Pichkari. Shalmali's versatile voice blended with the backdrop of InstruMen sounds peppy and vivacious. The music video is an entertaining bit with the vibrant colors of Mumbai captured in every frame.


Image Source:- instagram/shalmiaow