Tanhaji - The Unsung Warrior Star Ajinkya Deo Reunites With Anupam Kher In New York
Marathi actor Ajinkya who was recently seen in Ajay Devgn's film Tanhaji: The Unsung Warrior reunited with his Sansar co-star, legendary actor Anupam Kher in New York.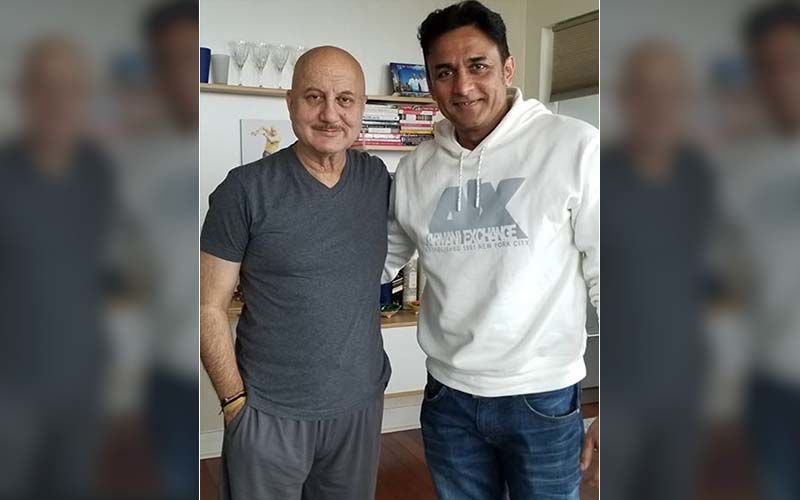 Ajinkya Deo the elder son of the celebrity couple Ramesh Deo and Seema Deo, who is remembered for his role in Maherchi Sadi, has given us great Hindi and Marathi films. After Ek Krantiveer: Vasudev Balwant Phadke, Maherchi Sadi, and Lapandaav he outshined his film record with his latest films Bombairiya and Tanhaji: The Unsung Warrior. These films have given him a big leap from regional cinema to mainstream Bollywood. The actor is also hosting the season 2 of the crime reality TV show Prema Tuzha Rang Kasa currently on television.
While Ajinkya Deo's career is on a new height after Tanhaji, he is making us nostalgic by his series of tweets lately. Ajinkya reunited with his Sansar co-star, legendary actor Anupam Kher.
The latter currently lives in New York and has recently published a book Lessons Life Taught Me, Unknowingly: An Autobiography. While Ajinkya was with Anupam Kher, he got an autograph on his copy from Kher.
The duo was together in the 1987 family drama Sansar wherein Kher played the role of Ajinkya's father. Ajinkya was a college-going boy named Shiva and the youngest family member. Directed by T. Rama Rao, starring Anupam Kher, Rekha and Raj BabbarAruna Irani, Archana Joglekar, Shekhar Suman, Priyanka, Chandrashekhar, Shafi Inamdar, Ajinkya Deo, Dinesh Hingoo and Seema Deo in the lead roles, the film was a remake of the Tamil film Samsaram Adhu Minsaram.
Image Source:-Twitter/Ajinkyad