'Yuva Dancing Queen': Dhanashri Kadgaonkar Looks Vivaciously Hot In A Red Gown While Promoting Her New Show On 'Chala Hawa Yeu Dya'
Dahanashree appeared on 'Chala Hawa Yeu Dya' for the promotion of 'Yuva Dancing Queen' in a gorgeous red gown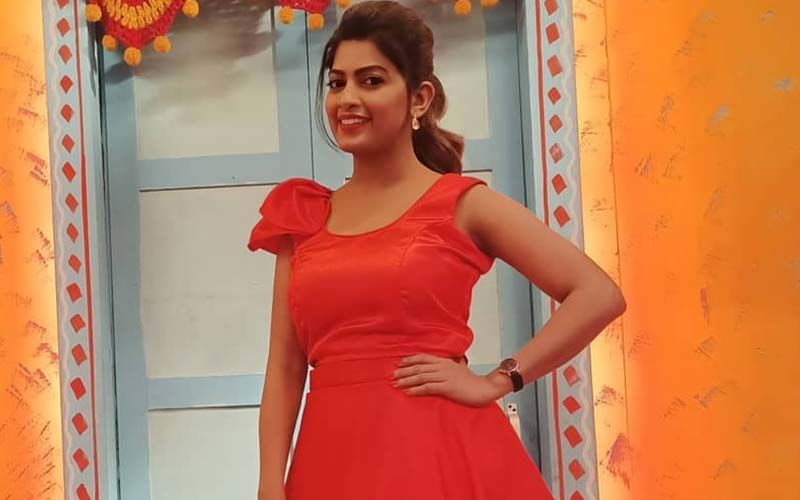 Vahinisaheb from 'Tujyat Jeev Rangla', Dhanashri Kadgaonkar is going to be shaking her leg on the platform of Zee Yuva's 'Yuva Dancing Queen', a dance reality show. This show will be different from the usual dancing competitions. Here 14 talented divas from Marathi film, television and theatre will share a stage and compete with each other for the title of 'Yuva Dancing Queen'.
It was during the promotion of this show that Dahanashree appeared on 'Chala Hawa Yeu Dya'. The gorgeous attire she picked for the night was a deep red ball gown with complementary heels. Her neat ponytail hairdo and minimal accessorization enhanced her naturally beautiful features.
Dhanshri also gives her fans a little sneak-peek in her routine she will perform this week on the remake of honeymoon lavani.
Her recent post appeals audience to watch her performance and share if they like it!
Dhanashree is often seen dancing in award shows or events, on the tunes of famous songs and lavanis but this time she will be in a cut-throat competition where every move will be scrutinized by the judges, Sonalee Kulkarni and Mayur Vaidya.
Kadgaonkar who is a Bharatnatyam dancer is confident about dancing but has to work hard on her moves because she hasn't danced professionally for the past 9 years. Dhanshree is a versatile, actor and now she will be bringing the versatility to her dance as well.
We will see Dhanashree on the platform of reality television after 10 years. She was last seen in 'Maharashtra Cha Superstar'. This is the same platform that actually springboarded Dr. Nilesh Sable of 'Chala Hawa Yeu Dya' to this level.
This weeks 'Chala Hawa Yeu Dya' is all about 'Yuva Dancing Queen', where we will know more about the show's format. What we know for now is Shaila Tike, Purva Shinde, Neha Khan, Ayli Ghiya, Gayatri Datar, Krutika Gaikwad, Breshna Khan, Girija Prabhu, Deepali Naigaonkar, Shama Deshpande, and Ankita Bhagat will also be participating in this show. This star cast promises a glittering and sensational season of dance indeed.


Image Source:- instagram/kadgaonkar_dhanashri