Gurmeet Choudhary Reveals That Shah Rukh Khan Is The Inspiration Behind His Neck Tattoo In Bedardi Se Pyaar Ka- EXCLUSIVE VIDEO
Gurmeet Choudhary, Sherine Singh and Kaashish Vohra, who were recently seen in the music video of Bedardi Se Pyaar Ka, talk about the response to the song, their first love stories, crazy things they did in love and more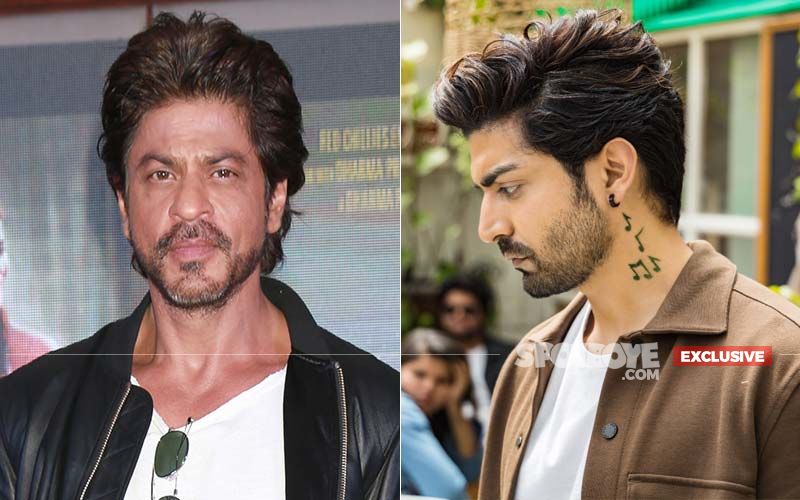 Actor Gurmeet Choudhary, who is popularly known as TV's Ram, was recently seen in a T-series music video, Bedardi Se Pyaar Ka, opposite Sherine Singh, Kaashish Vohra and Altamash Faraz. The music video, crooned by Jubin Nautiyal, shows a story of first love which remains unrequited and how you find love in unexpected places. The song has been trending on YouTube and has crossed 44 million views in a week since its release.
In an exclusive conversation with Spotboye.com, the stars of the music video, Gurmeet, Kaashish and Sherine, get candid about the song's success, the stories of their first love, crazy things they did for love and more. Read excerpts from the interview:
The song has been trending since its release and it has crossed 40 million views already. How has it been dealing with the response?
Kaashish: The response has been great. It has been trending on YouTube and I am bombarded with messages on Instagram and have got so many phone calls. So, I am very happy and excited and I just hope it keeps on growing and growing.
Sherine: It's the same. It has been the good news in this negativity all around. It's a ray of positivity and people are loving it. That's great for us.
Gurmeet: It is trending everywhere. I was out somewhere and people were listening to it all around. I was just taking a walk in my building compound when a Sardarji friend of mine shouted at me, "Paaji, trending". It feels so good as you put in so much work and when it reaches people, it's a great feeling.
Gurmeet, in this song you shot with these two new talents, Sherine and Kaashish. How was that experience?
Gurmeet: Both of them are very talented and hardworking. It never felt that we were working together for the first time on set. Both of them have dedication and enthusiasm that showed on screen. They have held onto such strong characters in the video. It is rare to have so much acting in a music video and ours is like a short film, and the way both of them pulled it, I got to learn a lot from them.
Sherine and Kaashish, you are new to the industry while Gurmeet has a lot of experience on his hands. So, what was his role in making you feel comfortable on set?
Kaashish: He is so supportive as a co-actor and an amazing human being who is fun to work with. He helped me so much in my first shot where I had to run and hold him. He gave me tips and that was how I was able to pull it off.
Sherine: He is a great human being and that is very important. He is very supportive and helpful and he understands you. We had a romantic scene together and I was a little nervous, but he made me laugh and it made me so comfortable. Being in the industry for so many years and still being so simple and down to earth is an amazing quality.
Gurmeet: Both of them are saying too much. I did not do anything; they are themselves so talented. People say that when the camera starts, there should be some magic, and it is in them. They complement the camera.
Sherine: Along with you.
Sherine, you got to work with two such amazing hunks, Gurmeet and Altamash, how was that?
Sherine: Both my co-actors made me feel so comfortable that I felt like I was with my friends. I remember Gurmeet from his first serial and my mom has been a big fan of his. She was excited that I was going to work with Ram (Laughs). I was nervous when we were travelling, but we got to talking on the flight and I found him so down to earth. Both him and Altamash made me feel so comfortable and it's so important especially when you have romantic scenes together.
Gurmeet, you sport a unique tattoo in the song. What's the story behind it?
Gurmeet: I believe that whenever you do any project, you should do something different each time, be it your look, your character or anything else. I had a music video release a few months ago with B Praak and I was wondering what new I can do now. Suddenly it struck me that I have never sported a tattoo.
So, I searched on the internet and I saw one of Shah Rukh Khan sir's songs in which he had a tattoo and I got inspired by it. After that, I researched a lot of tattoos of international stars to see where it looks best. That gave me the idea to have a tattoo on my neck with an earring, as it would be different. I planned a tattoo that would be visible from the side as well as front view. I gave all my specifications to my make up artist, Arvind Thakur, who has been with me for about 10 years now. He is very talented and he brought out this tattoo and I loved it.
But our biggest challenge yet was to convince our director. So, after reaching Dehradun, I did a mock shoot for him. I played a romantic track and shot on camera my enactment on it sporting the tattoo. I did one take with an earring and another without it. My director called me in the evening to talk and I showed the videos to him and I told him I'll don the tattoo only if he approves it. And he loved it.
Kaashish, in the video you had to bring that look of one-sided love on screen. So, was it from personal experience?
Kaashish: Everyone has gone through one-sided love in their life, especially in school. So, I had one such experience too and thus it came naturally to me. (Laughs)
The song shows a story of first love. What were the stories of your first love in real life?
Gurmeet: During school time, I used to fall in love with every other girl, but you need courage to act on it and confess it, and I did not have that. Even today I am a little bit shy. I was in school when I had a crush on this girl and I was doing a lot of things for her. For about five-six months or so, I would do her homework and give her things. It was so filmy as one of my friends used to be at the forefront for this exchange and I would be the labour behind it all. So, when the time came to propose to the girl, I went up to her and confessed but she said that she liked my friend and not me.
When Debina came into my life, I had my first crazy love story with her. I was 19 when I came to Mumbai and met her and I just fell in love with her. I love 'love' and romantic films are my favourite, so when I met Debina all my love just overflowed in front of her.
Kaashish: Honestly, I have never been in love. I have had crushes, but the only time I fell in love was when I saw Salman Khan on screen, and then Hrithik Roshan.
Sherine: I think every girl has felt that. And as for first love, like everyone, I had a love story in school and college. But it was like, I loved that guy and he loved me, but we never said it to each other. He would send me CDs with romantic songs, as CDs were in play at that time, but we never confessed as we never had that courage.
People say love makes you do crazy things. Even your music video shows that. So, what is the craziest thing you did in love?
Kaashish: I haven't done anything. I have been a lot on the receiving end but never the one doing it.
Sherine: I have never done anything but when breakups happen with your friends and you support them, sometimes the one you are supporting falls in love with you during that period of consoling.
Gurmeet: When I had started dating Debina, I always wanted to give her lots of surprises. I always believed in doing something unique and I was anyway a little crazy and had just shifted to Mumbai. It was Debina's birthday and I wanted to do something special for her. At that time, Lokhandwala back road used to be comparatively empty and deserted, so I decided that I wanted to do something big and would call a wedding band to celebrate Debina's birthday at midnight.
I had a friend named Aman who supported my crazy idea, so we both planned all of this together. He said that it would be dark at midnight on the back road, so we'll have the band play and will cut the cake in the car, and then will leave right away.
I went to take Debina and had told the band that as soon as they saw me back, they start playing. But when I reached, I saw them all dressed in that red costume in the middle of the road and they started playing just after seeing me, and I was so embarrassed. I kept pushing Debina to go ahead, but it was so much fun, and even today we laugh when we discuss it. After I told this incident to one friend of mine, who is a very big writer, he told me he wants to include this scene in his next project.
Kaashish and Sherine, you are just starting your respective careers. So, what importance does it hold to get such a big offer like this music video at the initial phase of your career?
Kaashish: This is my second song with T Series and when you work with such big production houses, you get such big songs and the chance to work with big stars and directors. It's always very important to start your career with big names, and it's an amazing feeling. You get to learn a lot and when you start with things like this, it benefits you at each step and people love you for it.
Sherine: I am really grateful to T Series for giving me this opportunity and I feel they always give opportunities to new talents, be it in their movies or music videos. I was supposed to do the music video of Bewafa Tera Masoom Chehra before this, but my dates clashed there. So, I couldn't do that. When I got this chance to star with Gurmeet in a Jubin Nautiyal song, it was a complete package for me. To have it at the start of my career is very important.
Gurmeet, you started the year with The Wife, followed by all the Covid help that you have been providing and now the success of Bedardi Se Pyaar Ka. Is 2021 turning out to be a fulfilling year for you?
Gurmeet: Last year when we were at home, we couldn't figure out what to do. As actors, we need to be visible and keep doing work. So, staying at home troubled me and I promised myself that in 2021 I had to go all out. It has already started as my song with B Praak worked well, then I had The Wife on Zee 5 and Bedardi Se Pyaar ka is the biggest gift I have got this year. I have grown up loving this song and it has a different kind of intoxication in it. And the way it was recreated this time, it was unreal. I was sure of its success since day 1, and there couldn't have been a better start to the year.
So, when are we going to see all of you next on screen?
Gurmeet: Because of the second wave, no work took place and a lot of meetings and narrations got pushed. Things will resume now so the future seems exciting and hopefully soon I will be able to give a big surprise to the audience.
Sherine: I am in discussion for a few OTT projects, but movies are still to come. Getting a movie is a big deal. One's talent can't be calibrated properly from one music video so when you do something on OTT or web, people start noticing the actor in you. So, after that, maybe I will get a good movie.
Kaashish: I am doing a Telugu film with a big banner and something on OTT as well.



Image source: Communique PR, SpotboyE archives