Sachin-Jigar On Recreating The Euphoria Fever On Times Of Music: 'Dr Palash Sen Is A Father Figure For Us'- EXCLUSIVE
Sachin-Jigar are a part of the Times Of Music reality series by MX Original. We spoke to the composer duo about their experience of recreating Euphoria classics and more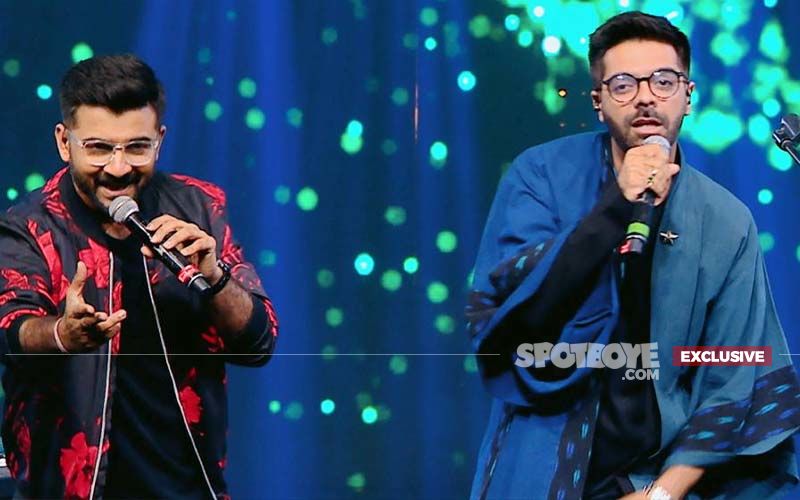 Times Of Music, an MX Original musical reality series is all set to feature 20 iconic musicians who will be seen recreating each other's chartbusters. Famous composers Sachin-Jigar are also a part of the show.
We got talking to the duo on their experience of being a part of this musical journey with the legends. Excerpts from the conversation:
What do you think about this whole idea of Times Of Music?
Sachin: I am extremely happy and absolutely pleased with this opportunity. The kind of lineups we have are all with legends. The first of its kind for music composers, for creators of all these legendary songs. We keep hearing their songs on repeat modes. Finally, we come across a show which talks about the creators and process of making that song and the thought behind it. Also, that particular creator's point of view of seeing today's music. It's an absolutely amazing show. I would like to congratulate MX player, Moon and Ram Narayan, my dear friend for putting up this show. Because nothing like this has ever happened for us music composers.
Jigar, what is your take on composers not getting highlighted the way singers do, on reality shows especially?
Jigar: It is important to stand out. There was a time when composers were highlighted on cassette or hoardings- we have seen Nadeem-Sharavan or AR Rehman pictures on them. But with changing times, priorities change, audience's demand changes. Talking about composers not being highlighted, I think it's a relevant question as we are seeing when a song comes out, they don't highlight the composers first, the way it should be. And I wish the time comes again where composers get the same kind of visibility which they used to get.
Show talks about the recreation of music. What is the difference between recreation and remix?
Sachin: People often ask that recreating means remixing the song. And let me tell you how recreating here is two composers coming together to recreate their own composition with their own flavours. This is more like a tribute. Let's talk about our episode where we have recreated Euphoria's Mayi Re song. For us Dr. Palash Sen Euphoria is more than family. He is a real life icon. We follow him and we go to him with our problems. We look at him like a father figure. Now imagine, Jigar and I are doing their song, which we have grown up watching and listening to, gone to so many colleges to perform that song, and now suddenly we are asked to perform the song in our own way in front of the creators. Now, this is not just recreation or us trying to show our musical ability. This is a tribute to the emotion. This show is going to take recreation to another level. Whereas remix is just putting a new beat to an old song. Recreation means creating something which is legendary one more time by making it more relevant to the particular time. It's not like promoting a film by putting a big song in it.
Jigar: The major difference I can say is we are not trying to reduce the musicality of an existing song and making it a club number or drive number but trying to make that song even more relevant with the current taste of music and we are not shying away or running away saying, "Yeh tera gana tha, ab ye mere credit mein hai." By recreating it, we want to give all the credit to Euphoria and Dr. Palash Sen. We are just celebrating that legendary song.
What is your take on the trend of remix in Bollywood?
Jigar: We as a Jodi have also been approached to make such remixes but we are not the right people to do it because we may not take it seriously. For us, any song which we personally love or not love is made with certain emotions. Even if the audience has liked it or not. That is a specific job which I think Sachin and I are not cut out for. But there are other people who do it brilliantly. I respect their job also because agar vo remix nahi karte to shayad aaj ham original banane ke position mein nahi hote. We will not take away form the fact that Bollywood requires it as there is a demand and they are just fulfilling that.
Other than Euphoria, anyone else you would want to pay tribute to?
Sachin: I absolutely worship AR Rahman sir, Pritam Sir has been our guru. We have worked as music arrangers for such people. And we have seen how their approach is different from each other, like how Pritam Sir has an approach from somebody like Anu Malik sir or Sajid-Wajid sir. And I feel if we really want to pay tribute to our gurus, then we should create great original music and not recreate tracks. I clearly remember when 'Jeena Jeena' from Badlapur came out, Pritam sir told me, "Sachin, tum log se ho gaya ek aisa gana jo evergreen rahega love songs ki list mein." We come from that sort of school where creating original tunes is considered to be an achievement.




Image Source : SpotboyE Team