Sanjeeda Shaikh And Jigar Saraiya Talk About Their Song Ruka Hoon, Item Numbers, Trend Of Remixes And Much More- EXCLUSIVE
Famous Television actress, Sanjeeda Shaikh and music composer Jigar Saraiya from the Sachin-Jigar duo, exclusively spoke to SpotboyE.com about their new music video, Ruka Hoon. They also discussed the trend of remixes, item songs and much more. Watch the video below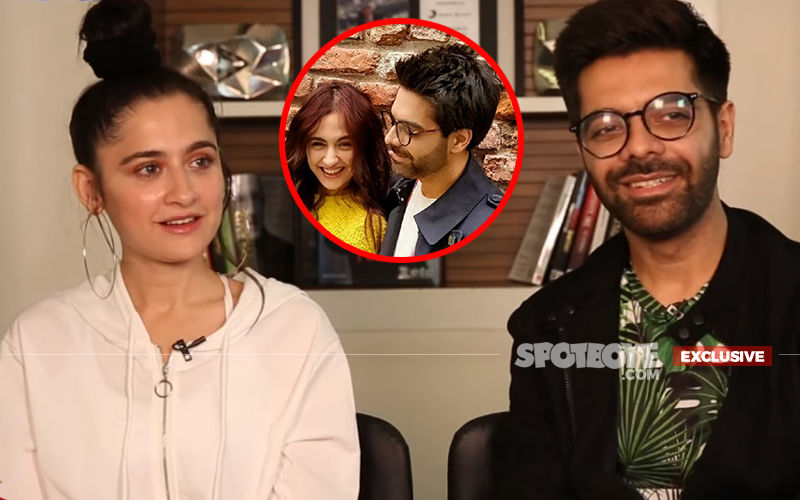 Ruka Hoon, starring the pretty actress, Sanjeeda Shaikh and super talented music composer, Jigar Saraiya has already won millions of hearts. Jigar of the popular composer duo, Sachin-Jigar marks his acting debut with the music video. This was the right time to catch up with the two and know their take on the song, the trend of remixes, item numbers and much more. Read On:
Were you guys expecting Ruka Hoon to be such a hit?
Jigar: No, I actually wasn't!
Sanjeeda: But I was! When I heard the song for the first time, Jigar didn't tell me that he is planning to cast me in the video. I kept listening to it on loop and it was so good that it didn't even feel like I am hearing it for the first time. So, I was very sure that not 13 million but it will definitely cross 300 million views.
Jigar: And I was sure if Sanjeeda will feature in it, 13 million log isse dekhne aa hi jaayenge (laughs). But I am happy that we started it with a good thought and its successful now.
Jigar, why did you choose this song to make an acting debut?
Jigar: Ruka Hoon is very me. I keep going through the user comments on YouTube and see that people are finding the song very innocent and without any impurity. I feel as musicians, Sachin and I are pure. We have made songs like Saibo and Jeena Jeena, which have no gimmick to it and are soulful. And now, after a long time, this is the song which I would say has that same kind of essence.
Was it difficult to convince Sanjeeda to star in the video with you?
Jigar: Oh, don't ask me! When I went to her with the song and made her listen to it, she really liked it. Then, I told her we are planning to make a music video on this and want to cast her, so she quickly replied, "Why not? Sure!" And then I told her that I am also featuring opposite her, post which she asked me to give her two days time to think and decide (laughs). Jokes apart, I was extremely nervous to shoot this video with Sanjeeda as she is a pro at it and it was my first time. Also, she was acting with a musician and not an actor.
Sanjeeda: I wasn't skeptical at all. In fact, I was very confident about the whole thing because we all have seen Sachin-Jigar's work. They have given the best of albums in most of the films that they have done. So, when I know that such a creative person will be next to me, how could I have said no. And believe me, even when he told me about his participation in the song, my reaction was the best. And then he tells me, 'We will shoot it in Istanbul'. So, I was like 'koi bhi feature karo yaar Istanbul lekar jao mujhe.'
And how was Istanbul? Any memories you want to share?
Sanjeeda: I was visiting Istanbul for the first time but the shoot was only for two days. We didn't have much time but tried to explore the best of the locations.
Jigar: We enjoyed but worked for 12 hours straight. We had to capture 8 hours of footage to show the 2-minute-long chemistry in the song.
Jigar, did Sanjeeda help you in acting?
Jigar: Absolutely!
Sanjeeda: Actually, the video worked for both of us because we are not acting in it. Main jaisi hoon waisi hi hoon album mein and Jigar is also quite like himself. Also, the director of the video helped by keeping a workshop for us. There was no theme or a situation they gave us to act on, but just pure talks and conversations.
Sanjeeda, are you planning to explore singing as well after acting, dancing and anchoring?
Sanjeeda: I don't think I can and want to anchor ever because I am not good at it and it requires a lot of patience. Coming to acting and dance, yes, I thoroughly enjoy both of them. And singing, well, the person seated next to me has made me realise that I can actually sing. So, if I ever plan to do something in that genre, it will only be with Jigar.
Jigar: Ji, bahut achcha gaati hai yeh.
So, Jigar will we see Sanjeeda croon in your next?
Jigar: Absolutely, very soon. Woh toh mujhe Istanbul jakar pata chala that she sings so well or else I would have introduced female lines in this song.
Sanjeeda: You wont believe, but Jigar can just see someone and tell that if that person can sing or not. He didn't even hear me and just by looking at me, he said, 'you are a good singer.'
Music videos are back in trend after '90s. What do you think about this change?
Jigar: It's great that the trend is back. If I'm making a music video today, it is only because I have seen Lucky Ali, Euphoria and Alisha Chinoy who are the real pop stars of India. But a time came, when our industry was not giving space to these pop stars. And now, when the trend is back, I want the young generation to see these pop stars and follow them. Also, digital platform has made things way simpler now. For those who don't get the break in Bollywood or albums, can actually create their on YouTube channel, and post their work for the audience.
Jigar, any singer who inspired you to make this music video?
Jigar: For this song, my only inspiration was Lucky Ali. He used to sing and also act in his albums. I still remember his song with Perizaad Zorabian and another one, starring Malaika Arora- all these actresses have supported Indian bands even then and it was so beautiful. So when Sanjeeda agreed to do our music video, we were glad that one part of the video is done.
Sanjeeda: I used to like Euphoria a lot. Their song, Maeri had Rimi Sen in it and the best part is all these songs are so fresh in our minds even after ages. I want the same thing to happen with Ruka Hoon.
What about the trend of remixes. Do you guys agree with it?
Jigar: I feel there are some people who need support of remixed songs to do business on Friday, Saturday and Sunday. If a producer is being successful in reaching out to ears of the audience by making them listen to what they have heard before, there is no harm in doing that. But if you ask me, I personally don't like it. As a musician, I can't relate myself to such songs. But, there is one good thing for us in it- when everyone is busy making remixes we are getting enough time and scope to produce something original.
Sanjeeda: I am also not a very big fan of remixes. I enjoy some of the songs but to me, soulful and original songs appeal more. Even when I am acting and have to perform an emotional scene, I often hear music. But I will not listen to any remix song to get that mood. It has to be an original one.
Just like remixes, the trend of item songs has also caught on. We see at least one in each film these days...
Sanjeeda: I feel it depends from project to project. I have done one item song for Remo D'souza's Nawaabzade. And I purely did it because I love dancing. I didn't give a second thought that whether it will be used for promotional strategy or will be in the film. If I connect with the person and love the person, I will do it for him and Remo is someone I love.
Jigar: We both love Remo!
Sanjeeda: And Remo also loves you, Jigar. In fact, when he came to know that I am doing a song with you, he was so happy. Anyway, coming to remixes, look at Nora Fatehi! She is killing it and how. She is a brilliant dancer. For instance, Kamariya, which is Jigar's song is wonderful and I have danced on that song at many events. I like watching a good performance, a good dancer doing a good job on-screen. So for me, I am okay with item songs.
Image Source:- instagram/jigarsaraiya