Sunny Kaushal On Shooting Amidst The Pandemic: 'I Was Getting The Bottle Sanitised After Every Shot And Filling It Myself'-EXCLUSIVE VIDEO
Sunny Kaushal and Sahher Bambba, who featured in the music video of Ishq Mein, talk about shooting during the pandemic, their love lives, future projects and more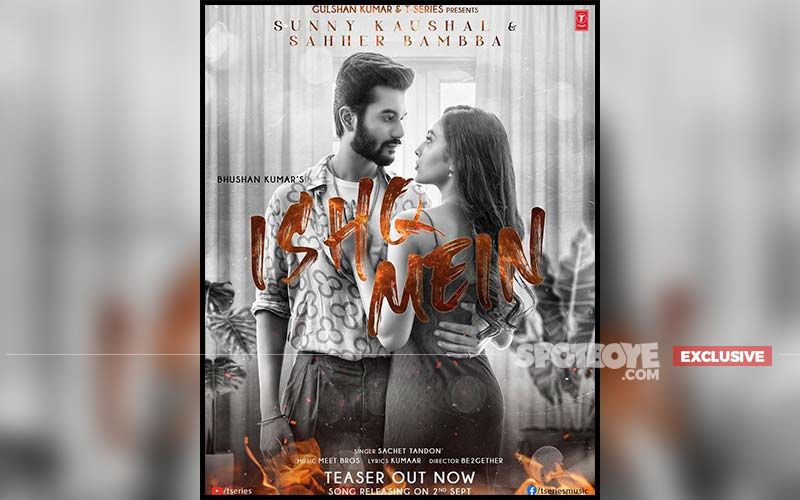 Earlier this month, Sunny Kaushal and Sahher Bambba were seen together in the music video of Ishq Mein. The song composed and sung by Meet Brothers featuring Sachet Tandon, depicts a tragic love story where Sunny is shown as a lovelorn aashiq.
In an exclusive conversation with SpotboyE.com, Sunny and Sahher open up about working with each other, their love lives, future projects and more. Read excerpts from the interview:
Sunny and Sahher, how was your whole experience of working alongside each other and building up that sizzling chemistry that we saw on screen?
Sunny: It was a breeze working with Sahher. We didn't have to break any ice as we connected instantly when we first met on the set. We started cracking jokes from the word go. She was very easy to work with. As for the chemistry part, in more than half of the video, either she is injured or we are fighting, so I don't know what chemistry you are talking about (Laughs).
Sahher: I remember meeting Sunny for the first time at the stylist's place. I am very big and sensitive to energy, so the first time I saw him, I felt that he was such a sweet boy and through the process, he just kept validating that belief. I also realised that I needed to up my game as he is so talented. Everything he was doing was just so good and, in some portions, it really felt like he was heartbroken.
Speaking of that, Sunny you were seen drinking in a major portion of the song and you looked drunk, so was it method acting?
Sunny: (Laughs) It was just acting. I was drinking water out of that bottle. I was scared as we shot during the pandemic and I had to drink from the bottle while dancing too, so I was getting the bottle sanitised after every shot and filling it myself.
And talking about heartbreak, have you both faced that in your personal life as well?
Sahher: Yes. I think every relationship teaches you something. And my past relationships have taught me the dos and the don'ts. The biggest do is to communicate and there shouldn't be any room for insecurities when two people are in love and I stand by that. Thankfully, I have never broken hearts and neither has anyone broken mine.
Sunny: (Cuts in) How can that be possible? If you have had relationships then someone must have broken someone's heart.
Sahher: (Laughs) It has always happened amicably so there has been no bad blood.
Sunny: It has happened to me. Mera dil toota bhi hai and maine dil toda bhi hai. The thing is that when you are younger, you don't know much. It's not that I know any better right now, but when you are younger your relationships teach you a lot. I am emotionally much smarter and stable now, and more stable in myself to give that to a relationship. But when you are in college in your teen years, you don't know much about life. You are just out and have started meeting new people. It's all about hearts fluttering and butterflies flying and violins playing everywhere. You mistake that for love at that time but then there are different layers to it. So, you break hearts and your hearts get broken too. It's a give and take, but thankfully no bad blood between anyone.
Sahher, your first three projects are all three different avenues—first a film with Pal Pal Dil Ke Paas, then a web show with The Empire and thirdly a music video with Ishq Mein. Do you feel this diverse experience has helped you nurture your craft more?
Sahher: I like to believe so. Music video was something I also found to be very different in the terms of how it is shot and how you are supposed to perform. But I learnt a lot from Sunny through that process.
Sunny: (Laughs) Thanks for that amazing joke. But jokes aside, it's very sweet.
So, what can you tell us about your future line up?
Sahher: I have another web series for Disney+ Hotstar, which is being directed by Habib Faisal and Tarun Mansukhani. It is an adaptation of the novel Those Pricey Thakur Girls. It's something completely different than whatever I have done yet. It's set in the '80s and I play a news reader in that and it will be out soon.
Sunny, according to the reports outside your line up seems very exciting. You have completed Hurdang with Nushrratt Bharuccha, then you are reportedly starring opposite Yami Gautam in Chhor Nikal Ke Bhaaga, with Janhvi Kapoor in Milli, and then you have Nakhrewali with Aanand L Rai. What can you tell us or confirm amongst these?
Sunny: You already know it man. But the thing is I can't talk about these things unless they are announced officially.
Okay, but as for Hurdang, you wrapped up the film last month. So, any decision on its release plan yet?
Sunny: Not that I am aware of as of now, as we just wrapped it last month and it's in post-production. Once that is complete, we'll see what is happening. But I hope it is this year and I think it will be this year only.
Meanwhile, you shared a picture from the film dressed up as a cop…
Sunny: Actually, that was just a dress up in the film. I actually play a college student from Allahabad University. The film is set in the '90s and is a love story set in the backdrop of Mandal Commission.
Image Source: YouTube/SpotboyE/T-series, Instagram/sahherbambba/sunsunnykhez