Bhushan Kumar Reveals REAL REASON For Specifically Casting Jubin Nautiyal And Nikita Dutta For Song - 'Mast Nazron Se'
Mast Nazron Se was launched with much fanfare and the audience hooted for an encore when the song was screened for them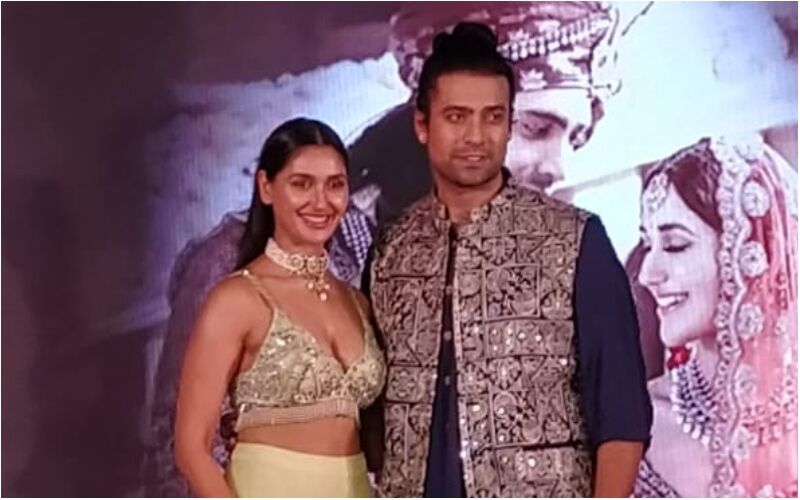 One of the most awaited songs of 2022 surely includes Bhushan Kumar's Mast Nazron Se sung by none other than the effervescent, Jubin Nautiyal!

The song has just dropped on YouTube and is already raking up views all thanks to its peppy tune and of course, Jubin's soulful voice. What's more? T-Series launched the song earlier today with much 'taam jhaam'. The song which is picturised against the beautiful backdrop of a traditional Indian wedding features Jubin and Nikita's celebrations along with the vibrant and talented Himansh Kohli and Anushka Sen.
During a recent interaction, Bhushan Kumar revealed the real reason for specifically casting Jubin Nautiyal and Nikita Dutta.
Interestingly, the song was launched with much fanfare and the audience hooted for an encore when the song was screened for them.
Infact, when Jubin and Nikita were called on stage, the audience could feel their palatable chemistry and went on to cheer for the duo. Producer, Bhushan Kumar too went on to tease Jubin and Nikita along with the audience present at the event which had everyone is splits!
The T-series owner shared that their sizzling chemistry was a major reason for their casting, but he urged Jubin to reveal the real reason (referencing Jubin and Nikita's alleged love affair).
Meanwhile, Jubin clearly couldn't stop blushing when urged to share the real reason as Bhushan Kumar said, "hakikaat batao na… toh saach yeh batayega, iisne mujhe saach batane se mana kiya hain."
Jubin jokingly responded, "nahi kuch hain nahi batane ke liye, saab taang kheech rahe hai, taang kheech kheech ke itna lamba kardiya hain mujhe."
To this Bhushan Kumar countered, "toh fir tumhari itni saari pictures aa rahi hain, jewellery shop pe jaa rahe ho, gaana ga rahe ho uske liye." Jubin quickly responded, "humlog bohot ache dost hain, we're just good friends."
"Dost jewellery shop thodi jaate hain," pointed out the T-series owner.
To this Jubin continued, "Doo dost khaana bhi kha sakte hain, coffee pee sakte hain, shopping bhi karne jaa sakte hain, jaise Mumbai main apne parivar ke saath nahi rehta hun, Nikita bhi apne parivar ke saath nahi rehti, toh mum kabhi saath main chale gaye saath main coffee pine ke liye, but haar cheez ko underline nahi karna chahte humlog."
With a media turnout like no other, Mast Nazron Se's event was certainly one of the grandest song launches the audience and industry have ever seen, with a lavish wedding backdrop and a crowd who were cheering and applauding their favourite stars and the beautiful song they launched!
Present at the event were, Bhushan Kumar, Jubin Nautiyal, Nikita Dutta, Himansh Kohli and Anushka Sen in addition to Rochak and Manoj Muntashir. Aditya Dev, the DOP Sunil Patel & choreographer Debo Suresh Nair too were seen at the grand song launch.
Singer Jubin was seen crooning to the tune for the audience present which had them all singing to his tunes in no time and comes as no surprise!
Gulshan Kumar & T-Series presents Bhushan Kumar's 'Mast Nazron Se' featuring Jubin Nautiyal, Nikita Dutta, Himansh Kohli and Anushka Sen and directed by Ashish Panda. Sung by Jubin Nautiyal, composed by Rochak and lyrics by Manoj Muntashir the song is out now!