Sona Mohapatra To Armaan Malik: Justin Bieber Concert Was Not A Worthy Stage, Best Left To The 'Actors' Of Singing
This is what Sona Mohapatra has to say about the recently concluded Justin Bieber concert. It's no rocket science to guess that the concert's failure was just an excuse to make a dig on Parineeti Chopra and Sonakshi Sinha yet again...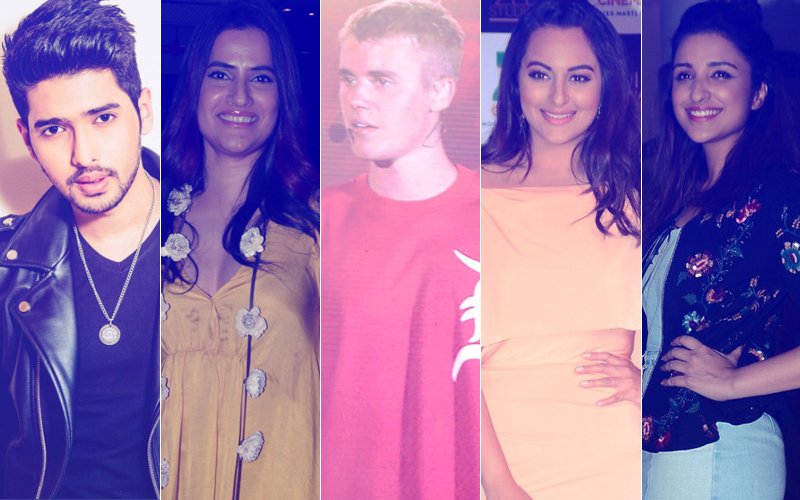 The controversy between Sona Mohapatra, Armaan Malik and the actors who sing on-screen, like Parineeti Chopra and Sonakshi Sinha seems to be never ending.Last night, the Justin Bieber concert in Mumbai witnessed a massive turn out but it was a no show as it left many angered and disappointed due to various reasons.

Singer, Sona Mohapatra was one of them who expressed her displeasure and mocked the entire concert, BUT while she did that, Sona didn't forget to take a dig at Sonakshi Sinha and Parineeti Chopa one more time.

Not mincing her words Sona tagged Armaan Malik and wrote on her Twitter account, "So maybe I was wrong after all @ArmaanMalik22 . This wouldn't be a worthy stage for you. Best left to the 'actors' of singing."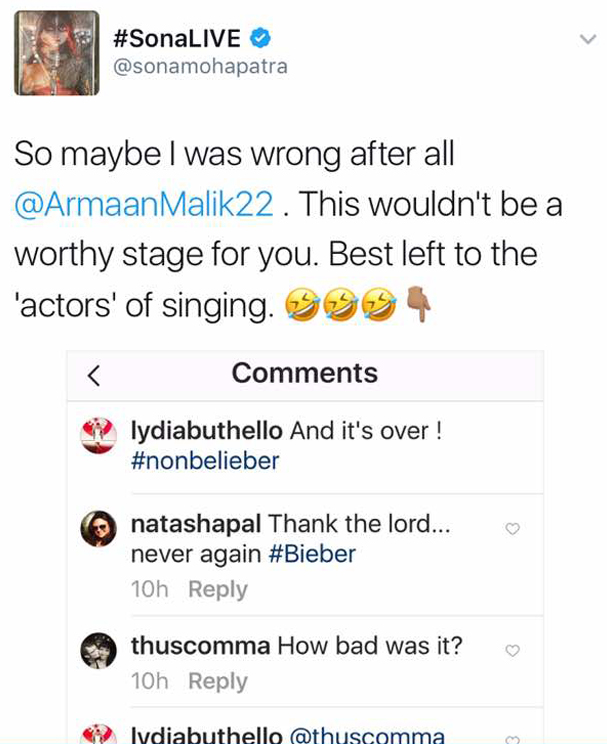 She didn't stop just here, Sona then put out a series of tweets downing the concert and suggested that Justin Bieber should have spent more time at the sound check rather than with the underprivileged kids. Here is what she said, "Meanwhile my Facebook timeline also has enough wannabes flaunting their night of glory. Grateful to have attended a fake, overhyped gig. The PR & marketing machinery spitting out realms about how the lip-syncing Bieber spent time with underprivileged kids before the gig. First of all, I doubt the underprivileged even know you Bieber. Secondly, you should've spent that time doing a proper sound check instead?"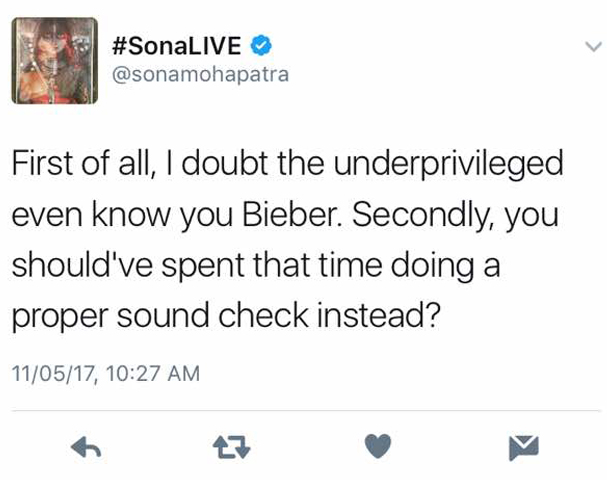 For those who have come in late, Sona Mohapatra has been condemning actors for a while now, who sing on-screen as well. She recently got into various Twitter wars with actresses Sonakshi Sinha and Parineeti Chopra. The entire controversy started when rumours of Sonakshi Sinha performing at the Justin Beiber concert started doing rounds. This left singers like Armaan Malik and Sona Mohapatra miffed as they felt that the professional singers deserve the stage and actors should stick to doing what they do the best, 'act'. Of course, Sonakshi and Parineeti didn't take her harsh comments lying low and they sternly replied to Sona's tweets.

And now that the concert which stirred the entire controversy is over, Sona Mohapatra has hit back again! Let's see who reacts to this one now?


Thumbnail Image Source: instagram/armaanmallik22, Manav Manglani