SpotlampE And Shaan To Welcome Ganapati Bappa With Melodious Phir Se Sajaa Do Duniya Saari
SpotlampE in collaboration with Shaan brings Phir Se Sajaa Do Duniya Saari is exclusively available on SpotlampE's official YouTube channel and it is also being aired on 9XM, 9X Jalwa, 9X Jhakaas and on 9X Tashan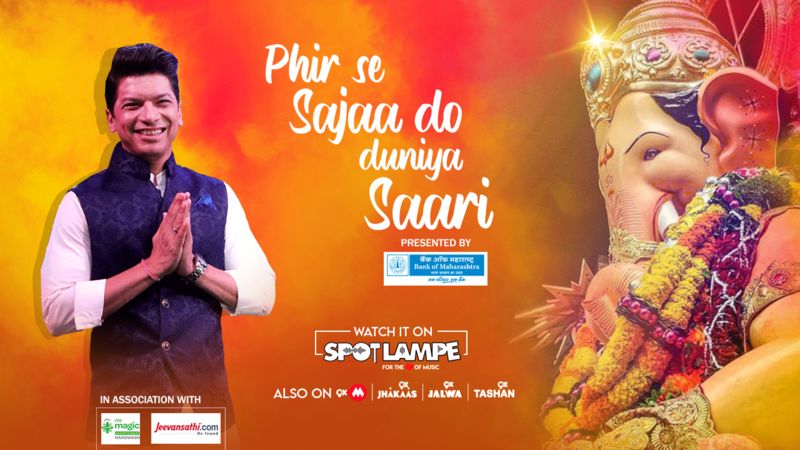 9X Media's vibrant music platform for original, non-film music content, SpotlampE has launched a super melodic prayer titled 'Phir Se Sajaa Do Duniya Saari'. The Song is an ode to welcome Lord Ganesh for the upcoming Ganesh Chaturthi festival. Sung by the versatile singer Shaan, 'Phir Se Sajaa Do Duniya Saari' is exclusively available on SpotlampE's official YouTube channel and it is also being aired on 9XM, 9X Jalwa, 9X Jhakaas and on 9X Tashan. Composed and produced by Raaj Aashoo, the song is a prayer to Ganpati Bappa who is also known as Vighnaharta, to lead the world out of despair and take us all along to a new beautiful happy and healthy world! Murali Agarwal has penned the inspiring and beautiful lyrics of the song.
Commenting on this very emotional and soothing song, Shaan said, "I feel blessed to record 'Phir Se Sajaa Do Duniya Saari'! Ganesh Chaturthi is the festival of happiness, love and joy and through this song, we are appealing to Ganapati Bappa – the Vighnaharta - to forgive our mistakes and to bring back all the happiness in the world. During this festive season of Ganesh Chaturthi, let the chants of `Ganapati Bappa Morya` and our musical ode to Bappa, be heard across the globe!"
In a short span of time, SpotlampE has become a vibrant and much chased after music label by upcoming as well as established singers to showcase their talent. With artists like Grammy winner Shaggy, Mika Singh, Daler Mehndi, Mohit Chauhan, Shaan, Ankit Tiwari, Shankar Mahadevan, Payal Dev, Dev Negi, Vicky Thakur, launching their tracks on SpotlampE, the platform has become the destination to discover the best of contemporary and commercial music across genres and across languages.
Commenting on the initiative, Rajitta Hemwaani, Chief Content & Operating Officer, SpotlampE said, "We launched SpotlampE two years ago during Ganesh Chaturthi and with Bappa's blessings SpotlampE has become a force to be reckoned with in the Indian Music fraternity. We are pleased to partner with Shaan, Raaj Aashoo, Murali Agarwal and present 'Phir Se Sajaa Do Duniya Saari' a melodious ode to Ganapati Bappa. The Song is like a prayer to Bappa to end all the sufferings and to take us to the new and happy world. This alluring and soul touching Track will definitely resonate with the devotees of Ganapati Bappa!"
'Phir Se Sajaa Do Duniya Saari' will be promoted across all the social media platforms of 9XM, 9X Jalwa, 9X Jhakaas and 9X Tashan. The track will be played and promoted across SpotlampE and simultaneously on all Audio & Video streaming platforms & on YouTube.
Check out this spellbinding song 'Phir Se Sajaa Do Duniya Saari', exclusively on SpotlampE
Image source:-SpotlampE