Cuteness Alert! Gippy Grewal's Sons Dancing On His Song Is The Most Adorable Thing You Will See On The Internet Today
Gippy Grewal's sons Shinda and Gulbaaz Grewal are setting adorable sibling goals while dancing on his song 'Bachpan'. Cuteness overloaded.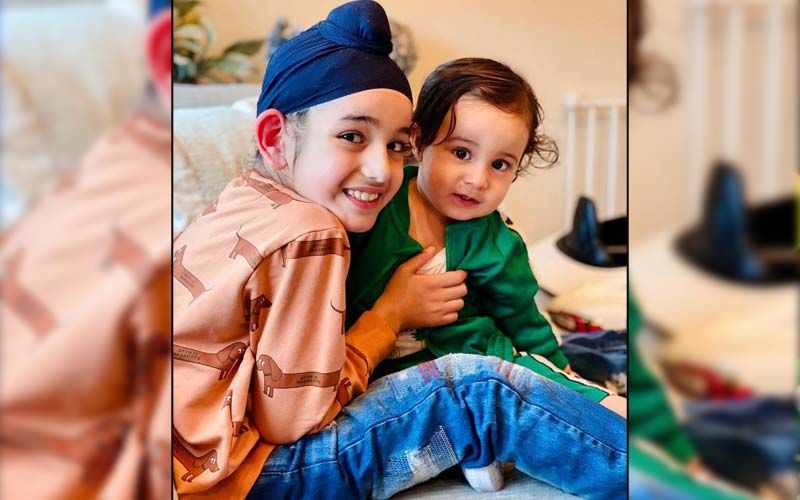 There is no doubt that Punjabi singer Gippy Grewal has a huge fanbase all over the country. The singer is winning millions of hearts with not only through his stunning performances but also through sharing adorable pictures and videos of his sons. Yes! Gippy Grewal's sons are not only becoming our favourite celeb kids but also overtaking their father's popularity with cute manners.
Recently Gippy Grewal took to his social media handles and shared an adorable video of his sons Shinda and Gulbaaz Grewal is no less than a blessing on your social media feed. It was an Instagram reel where you can see both his sons were exhilarating and grooving with the beats of papa Gippy's famous song 'Bachpan'. Holding Gulbaaz on the endearing and brotherly arms, Shinda Grewal was enjoying every beat of the song. Trust us, you will be utterly delighted to see such an adorable video of sibling love and affection. Thanks, Gippy Grewal for sharing this.
Gippy Grewal's son squad is pretty popular and can make everyone fall in love with them either by showing their goofy activities or by setting pure sibling love. The singer is blessed with three sons and all of them are dashingly cute.
Gippy Grewal is now busy executing his upcoming projects. You can soon see him on the silver screen with movies maned, 'Paani Ch Madhaani', 'Phatte Dinde Chakk Punjabi' and many more.

Image source: Instagram/gippygrewal