Qismat 2: Ammy Virk And Afsana Khan Croon To Teri Akheeyan; A Fun Dance Track
After the soul-soothing 'Janam', the makers of Qismat 2 have released a fun and joyful dance track called Teri Akheeyan, written by Jaani and composed by B Praak.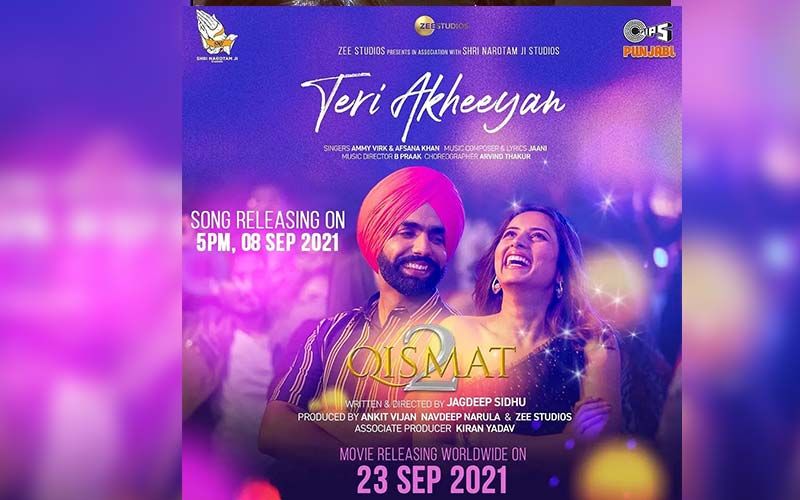 The makers of Qismat 2 which is one of the most-awaited Punjabi films of this year have released one more song from the film, a dance track titled- Teri Akheeyan. The fun and joyful dance track is written by Jaani and composed by B Praak. Qismat 2 is the sequel of 2018's blockbuster Qismat. The film has become the talk of the town even before its release. So far the makers have released two songs and all are being loved by the audience.
Sargun Mehta took to her Instagram handle to share a poster of Teri Akhiyan. In the caption, she wrote, "Happy happy wala gana #QISMAT2." The poster, which was released with the song shows Ammy Virk and Sargun Mehta in a groovy mood.
'Akheeyan' has been sung by the singing sensation Afsana Khan along with Ammy Virk, who's also the lead hero of the film. The foot-tapping track has been picturized on both Ammy Virk and the leading lady of Qismat 2, Sargun Mehta, who are seen dancing their hearts out in the video choreographed by Arvind Thakur.
Akheeyan is a club number and beautifully captures the unique chemistry between 'Bani' and 'Shiv' - characters played by Sargun Mehta and Ammy Virk in Qismat 2. The film is directed by Jagdeep Sidhu and is expected to releases on 23rd September worldwide. It is produced by Ankit Vijan, Navdeep Narula, and Zee Studios.

Image source/SargunMehta/Instagram