Sargun Mehta Gets A Cool Belated Birthday Surprise From Hubby Ravi Dubey
Sargun Mehta celebrated her 31st birthday last year on September 6, and undoubtedly she had a blast. And now though it's been four months since the 'B-day', the actress is being showered by back to back gifts. The latest one has been given by her loving hubby Ravi Dubey, who gifted Sargun a brand new, fully luxury SUV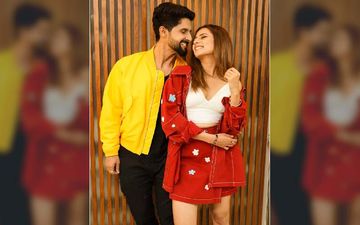 Pollywood actress Sargun Mehta and Ravi Dubey have been giving couple goals right from the time the two met each other. And All thanks to the social media platforms, their posts gives all the more relationship goals and leaves the fans mesmerized.
Sargun Mehta celebrated her 31st birthday last year on September 6, and undoubtedly she had a blast. And now though it's been four months since the 'B-day', the actress is being showered by back to back gifts. The latest one has been given by her loving hubby Ravi Dubey, who gifted Sargun a brand new, fully luxury SUV.
Actress Sargun was happy to get her new luxury SUV, and she for sure can't wait to flaunt off on the roads as well. Ravi took to his social media account to share videos and pictures of the big birthday surprise that he gifted to her partner Sargun Mehta. While sharing the post Ravi wrote, "𝗜 𝗮𝗺 𝗻𝗼𝘁 𝗴𝗼𝗶𝗻𝗴 𝘁𝗼 𝗽𝗿𝗲𝘁𝗲𝗻𝗱 𝗶𝘁'𝘀 𝗮 𝘀𝗺𝗮𝗹𝗹 𝗱𝗲𝗮𝗹 𝗰𝗼𝘀 𝗶𝘁𝘀 𝗵𝘂𝗴𝗲 𝗳𝗼𝗿 𝘂𝘀 ...𝗽𝗼𝘀𝘁 𝗸𝗮𝗿𝗼𝗹 𝗕𝗮𝗴𝗵 𝘄𝗵𝗲𝗻 𝗺𝗲 𝗮𝗻𝗱 𝘀𝗮𝗿𝗴𝘂𝗻 𝗺𝗼𝘃𝗲𝗱 𝗯𝗮𝗰𝗸 𝘁𝗼 𝗠𝘂𝗺𝗯𝗮𝗶 𝗮 𝗱𝗲𝗰𝗮𝗱𝗲 𝗯𝗮𝗰𝗸 𝗮𝗹𝗹 𝘄𝗲 𝗵𝗮𝗱 𝘄𝗲𝗿𝗲 𝗮𝗺𝗯𝗶𝘁𝗶𝗼𝗻𝘀 𝗮𝗻𝗱 𝘃𝗶𝘀𝗶𝗼𝗻𝘀 𝗼𝗳 𝘁𝗵𝗲 𝗳𝘂𝘁𝘂𝗿𝗲 𝗮𝗻𝗱 𝗶𝘁 𝗹𝗶𝘁𝗲𝗿𝗮𝗹𝗹𝘆 𝗳𝗲𝗲𝗹𝘀 𝗮𝘀 𝗶𝗳 𝘁𝗵𝗲 𝘂𝗻𝗶𝘃𝗲𝗿𝘀𝗲 𝗵𝗮𝘀 𝘁𝗮𝗸𝗲𝗻 𝘁𝗵𝗲 𝘄𝗵𝗲𝗲𝗹 𝗶𝘁𝘀 𝘁𝗮𝗸𝗶𝗻𝗴 𝘂𝘀 𝗲𝘃𝗲𝗿𝘆𝘄𝗵𝗲𝗿𝗲 𝘄𝗲 𝗶𝗺𝗮𝗴𝗶𝗻𝗲𝗱 𝗮𝗻𝗱 𝗮𝗹𝘀𝗼 𝘄𝗵𝗲𝗿𝗲 𝘄𝗲 𝗰𝗼𝘂𝗹𝗱𝗻'𝘁 𝗵𝗮𝘃𝗲 𝗶𝗺𝗮𝗴𝗶𝗻𝗲𝗱 𝘀𝘁𝗲𝗲𝗿𝗶𝗻𝗴 𝗰𝗹𝗲𝗮𝗿 𝗼𝗳 𝗼𝗯𝘀𝘁𝗮𝗰𝗹𝗲𝘀 𝘁𝗮𝗸𝗶𝗻𝗴 𝗻𝗲𝗰𝗲𝘀𝘀𝗮𝗿𝘆 𝗱𝗲𝘁𝗼𝘂𝗿𝘀 𝘁𝗮𝗸𝗶𝗻𝗴 𝘂𝘀 𝘁𝗼 𝗰𝗼𝘂𝗻𝘁𝗹𝗲𝘀𝘀 𝗺𝗶𝗹𝗲𝘀𝘁𝗼𝗻𝗲𝘀 𝗮𝘀 𝗮 𝘁𝗲𝗮𝗺 𝗲𝗮𝗰𝗵 𝘄𝗼𝗿𝘁𝗵𝘆 𝗼𝗳 𝗮 𝗴𝗿𝗮𝗻𝗱 𝗰𝗲𝗹𝗲𝗯𝗿𝗮𝘁𝗶𝗼𝗻..𝘁𝗼𝗱𝗮𝘆 𝘁𝗼𝗼 #𝗧𝗲𝗮𝗺𝗥𝗮𝘃𝗶𝗦𝗮𝗿𝗴𝘂𝗻 𝗶𝘀 𝗰𝗲𝗹𝗲𝗯𝗿𝗮𝘁𝗶𝗻𝗴 ...#newcar #bmwx7 #msport #x7 #ravidubey#sargunmehta #TeamRaviSargun #Team #saravi#gratitude #thankful #grateful #forevergrateful
Aur Number ke liye shukriya @bhaaskar_kishore_kaushik".
Check out the post and picture of Brand New Luxury SUV:
Meanwhile, on the work front, Sargun Mehta recently wrapped up the shoot of 'Sohreyan Da Pind Aa Gea'. Hitting the big screens on May 29th, the movie stars Sargun Mehta along with Gurnam Bhullar for the second time. Next, she has 'Qismat 2' in a queue. The movie is slated to hit the big screens on 18th September this year.
image source: instagram/ravidubey
They say the best things in life are free! India's favourite music channels 9XM, 9X Jalwa, 9X Jhakaas & 9X Tashan are available Free-To-Air. Make a request for these channels from your Cable, DTH or HITS operator.