Movie Burqa(streaming on A-ha)
Rating: ** ½
Everything is a little too cute in director Sarjun KM's Tamil film Burqa. Like several Covid-created films Burqa too depends on restricted space and limited characters. Even the one-residence setting seems like too much space and too little self-expression in this listless chamber piece. This two-hander has some heartwarming moments between two strangers drawn to each other on a troubled night, like Nanda and Rajesh Khanna in Yash Chopra's Ittefaq but far more ambitious in its politics of religion and the religion of politics.There is no body in the bath tub but there several dying or dead on the streets. But the two protagonists seem not too perturbed by the violence outside.
Mirnaa Menon strikes a pretty portrait as Najma, a lately-widowed mysterious veiled beauty in Chennai who one night, finds a wounded rioter at her home. It is highly doubtful that any woman, least of all someone as conservative as Najma, would let the fugitive in.Very conveniently, she turns out to be a trained nurse who quickly stitches his wounds. The gaping ones, I am afraid, are the ones that the film's director and writer fail to see.
Even more ridiculous is the torrent of dialogues that the unlikely house mates strike up on Muslim religious practices(Iddat, for example, which demands a woman in mourning not to look at other men) and women's rights.
It all seems supremely stagey and often times,suspiciously manipulative: young Muslim veiled woman, rugged Hindu intruder with a violent past, instant chemistry….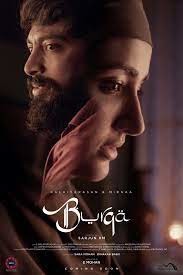 Unlike action-based two handers like , say Faraar in which Amitabh Bachchan held Sharmila Tagore a hostage, Burqa is reliant on inaction . Once the two protagonists are locked into the house together, their kinship grows not organically but politically. Surya asks the 'religiously inappropriate' bold questions which just about hover at the fringes of non-conservatism. Nothing too controversial here. But two politically innocent strangers wondering why there are different rules for different communities and different genders.So cute,so selfconsciously relevant.

Though the film's running time is short, the storytelling feels stretched-out. There is no real dynamism in the duo's clash of ideologies , probably because both the characters are too busy playing the victim card.We are supposed to feel sorry for Surya(Kalaiyasaran) because he had a hard childhood(mother a sex workers,etc) eventhough he openly confesses to Najma that he participates in communal riots for a price, almost as if he were talking about street plays.
Rather than ominous(what with rioters running around outside) the mood is labored and insulated. The dialogues feel strained and embarrassing in their do-or-die determination to prove themselves relevant. While watching this limp drama there is a constant nagging feeling that it has more on its mind than it is able to express.