Anupamaa SPOILER ALERT 13th July 2023: Malti Devi Slaps Anu For Betraying Her Trust, Challenges To Destroy Her Life
In the upcoming episodes of Anupamaa, Anu will decide to yet again abandon her dreams and stay back in India to take care of her family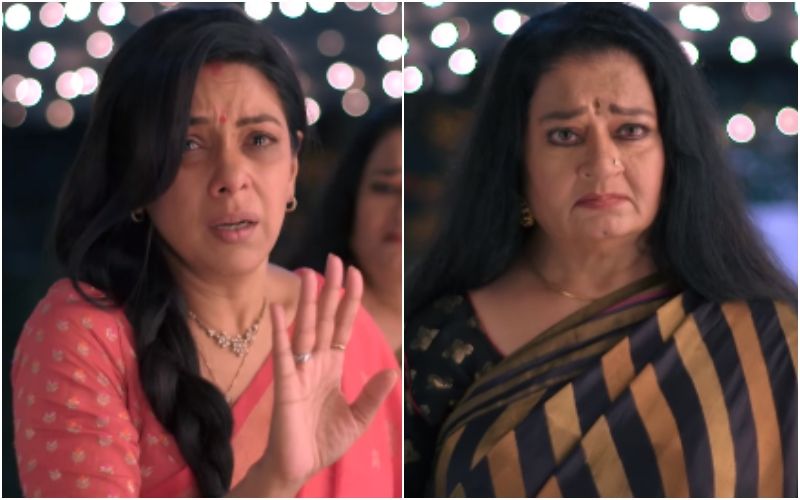 Starring Rupali Ganguly, Gaurav Khanna and Apara Mehta, Anupamaa is one of the most-watched shows on Star Plus. Produced by Rajan Shahi, the show has kept the audiences hooked with its high-voltage drama and unexpected twists. The show often tops the BARC ratings, despite coming under the scanner for ruining everyone's character development. It was seen in the previous episodes that Anu prepares to leave for America, while Choti's health constantly deteriorates.
Well, it seems like Anupamaa will yet again keep her dreams on the back burner as she won't be able to go to America while Choti is suffering emotionally. She will abandon Malti Devi at the airport and return to the Kapadia mansion as she cannot stay away from her daughter. In the promo, released by the makers, Anu explains to Anuj how she couldn't go. It is then seen that Anu apologises to Malti Devi, the latter slaps her hard for betraying her and breaking her trust. Gurumaa promises to ruin Anu's life, which leaves everyone shocked.
ALSO READ: Anupamaa SPOILER ALERT 12th July 2023: Malti Devi Cancels Anu's Trip To America So That She Can Take Care Of Choti
This new development in the story has left the audience with mixed reactions. While many are condemning the makers ruining Anupamaa's progress as a strong independent woman, others are wondering why couldn't Anuj and Choti go to America with Anu. it will be interesting to see how the future episodes of the show pan-out, especially since Malti Devi has promised to become the villain in Anu's life.
Image Source: Instagram