Anushka Sen On Her Bond With MS Dhoni: 'I Have Collection Of Bats Signed By Him, He Inspired Me To Do Khatron Ke Khiladi 11'- EXCLUSIVE
Anushka Sen talks about her equation with MS Dhoni and how he inspired her to take up Khatron Ke Khiladi 11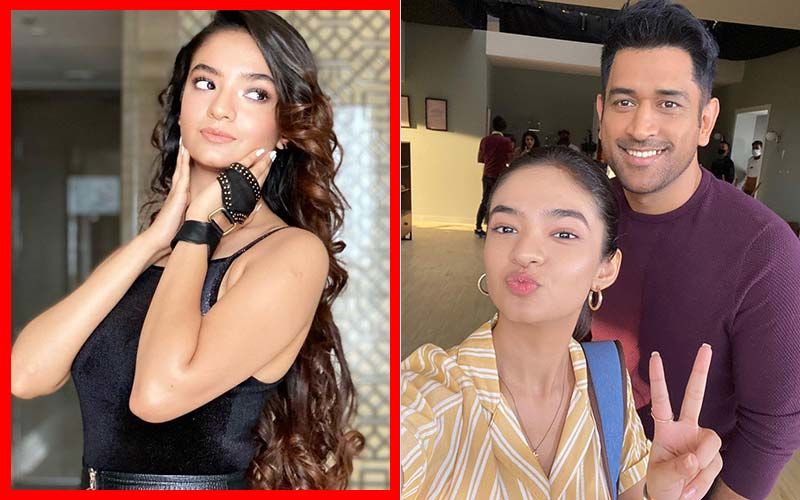 Anushka Sen, the famous TV actress and social media star, is also a contestant on Khatron Ke Khiladi this year. The 18-year-old, who performed daredevil stunts on the show, is already in the news. Recently, she shared a picture with cricketer MS Dhoni that took over the Internet.
Anushka told us, "I started working with him 7 years back. I have done 16 advertisements with him for a brand we are brand ambassadors of. It's a Chachu Chikki combination that we have been playing. Seven years is a long time and every year we meet he is growing. I am growing. Even when I met him now I have become an adult. He is so fascinated with me. Every time he comes, I am like Chachu is saal maine ye kiya. This year when I met him I told him, I have given my boards and will be going to college. And he was like oh my God you are growing up and all. We both are from Ranchi. That was the first thing I said to him when I met him for the first 7 years back. And that's how we got connected for the first time."
ALSO READ: Khatron Ke Khiladi 11: Arjun Bijlani, Anushka Sen, Vishal Aditya Singh, Shweta Tiwari And Sana Makbul Khan In 7 Days Quarantine At A Mumbai Hotel- EXCLUSIVE
Secondly, he is very humble and down to earth. He is literally like an inspiration to me. I always keep it in my mind. I am so young to achieve so many things and my Dad keeps telling me that he is a legend and the way he keeps himself grounded. Everybody loves him. I have never heard anybody saying that they don't like him. When I see him on set being so casual and so down to earth then the ego, attitude kind of things don't come in your head only. I learn things from him and then I have beautiful chemistry and bond with him. I have also met his wife Sakshi Di and she is very sweet. My family has met him and we have a family picture together. In fact, so many pictures together added Anushka."
Anushka also revealed the collection of bats she has signed by him, " I have so many bats signed by him. Like small signature bats. This year me and Mahi Chachu were even discussing how I could display them all together at my home in a certain way. Every year I have signed one or two bats from him. Now he only reminds me, 'Mera bat kahan hai?'. Let me sign for you. This time I got a ball also so he had signed that also for me. I really feel blessed to get this opportunity to work with him so many times."
Ask her what he has to say about her participating in Khatron Ke Khiladi 11 and the actress replies, "So last time when I met him was in February or March this year and that time it was not decided that I will be participating in the show. But I am sure when I meet him next time he will be really fascinated by it. You know he is also one of the reasons I took up Khatron Ke Khiladi. Like I am 18 and already doing a lot of things. So many people come to me asking don't you feel you are missing out on something. But I always have this in mind that legends like MS Dhoni, Ronaldo all have started at a very young age. They were working so hard and that's why they are today. So I am doing Khatron or any hard work I am doing. These are the people who inspire me."



Image Source: Instagram/anushkasen0408