While Bigg Boss often makes headlines for the contestants' antics,
this week, the reality show is grabbing eyeballs for
Sreesanth
's revelations on the infamous Slapgate controversy which created a stir back in 2008. In yesterday's episode, Bigg Boss had introduced the Captaincy task 'Breaking News'
where the contenders Surbhi Rana and Deepak Thakur had to play reporters
and extract breaking news from the contestants. The rules were simple – whoever got the best news would be declared captain.
The contestants played the game in the right spirit and had loads to share, but the one who grabbed the limelight was Sreesanth. He addressed the infamous 2008 Slapgate controversy which took place in the inaugural season of IPL when Sree's team Kings XI Punjab beat Harbhajan Singh's Mumbai Indians. The former had approached the latter to wish him 'Hard Luck' post which Harbhajan slapped him leading to Sreesanth crying inconsolably.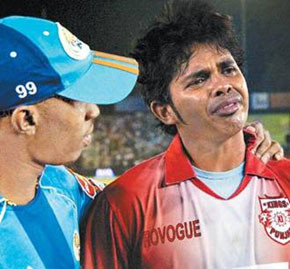 Other then Sreesanth, Rohit Sunchati also made the audience sit up and take notice when he revealed that he was once dating a popular actress 2-years back and the girl in question is a film producer's daughter. Will Harbhajan too address Sreesanth's revelations? Let's wait and watch.


Image Source: Jansatta , Zschopau Taler , Popcorn & dailymotion.com/ video/ x57ia7