Bigg Boss 13: Asim Riaz-Sidharth Shukla's Fight Helps #IAmWithSidShukla And #LoneWarriorAsim Trend Whole Day
Bigg Boss 13 is gaining popularity thanks to Asim Riaz and Sidharth Shukla, who made it to the topmost trends on Twitter in India. Social media is divided into two after last night's fight and while Sidharth's fans supported him using #IAmWithSidShukla, Asim fans trend #LoneWarriorAsim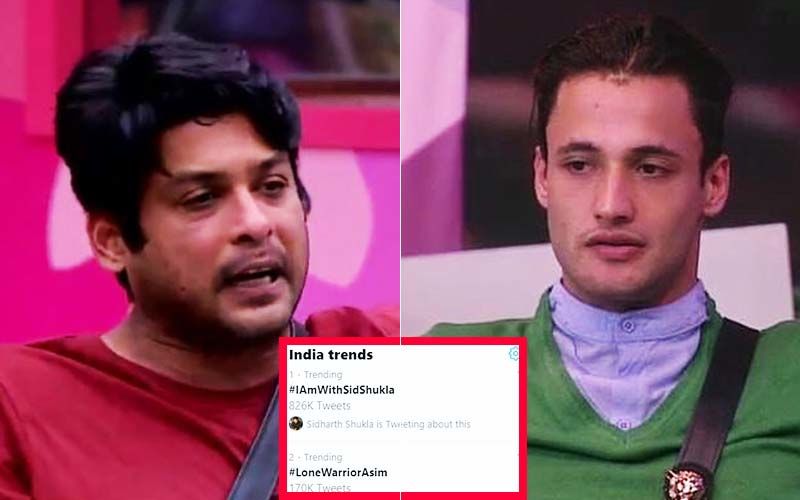 Bigg Boss 13 contestants Sidharth Shukla and Asim Riaz just don't learn from their past mistakes. It was just a few days ago that Sidharth Shukla and Asim Riaz's violent fight forced Salman Khan to unleash his fury during Weekend Ka Vaar. While one would think that was enough to stop them from fighting again, they fought once again and looks like they turned a deaf ear to whatever Salman had said. The latest episode saw Sidharth blatantly pushing Asim during the BB Junction captaincy task, and now Twitter is once again divided into two.
I love how Sidharth never hides his emotions.

Never sugarcoat any thing.

If he feels bad about anything, he says that upfront.

Vo kehte hai na, Muh Pai bolne walo ko log Kam hi pasand karte h.

Being real to self is most important & He definitely is.

#IAmWithSidShukla

— manish garg (@mani014) December 5, 2019
Nobody is perfect, the only flaw in him is temper/anger otherwise nobody can find any flaw in him🤙❤️ what a gem guy! The best contestant on the show.
#IAmWithSidShukla

— Mansi Arora (@MansiAr50826529) December 5, 2019
This is what asim did with @sidharth_shukla
Jis Thali m khaya ussi m Ched Kiya#IAmWithSidShukla pic.twitter.com/sYUBDdLKKp

— durgesh (@durgesh93912226) December 5, 2019
Victorious warriors win first and then go to war, while defeated warriors go to war first and then seek to win.

We love you man #LoneWarriorAsim

— Asimriazlovers (@Asimriazlovers1) December 5, 2019
Evict Asim for what?!
For Respecting Womens?
For being loyal to his friends?
For being nice to other hms?
For doing tasks without any violence?
For not becoming the dormant of Shukla ji?

Kon hai yeh log kahan se aate hai? #LoneWarriorAsim #EvictSidharthShukla

— Pooja Rai (@rai_pataka) December 5, 2019
In other news, Sidharth Shukla has been nominated for the next two weeks after his fight with Asim Riaz in big Boss 13 during the BB junction captaincy task. On the other hand, Asim Riaz has made it to the list of 50 sexiest Asian men in the world. He's on the same list as Hrithik Roshan, and while Hrithik has been voted as the sexiest man of 2019, Asim is on 24th rank.
Image Source: Instagram/asimriaz77.official/realsidharthshukla