Bigg Boss 13's Himanshi Khurana BLOCKED By Kangana Ranaut After Slamming Her For Disregarding Farmer's Protest; Calls Her 'Shameless'
Kangana Ranaut has blocked Himanshi Khurana after she blasted her and called her shameless. But you gotta check out how Bigg Boss 13 contestant reacted to it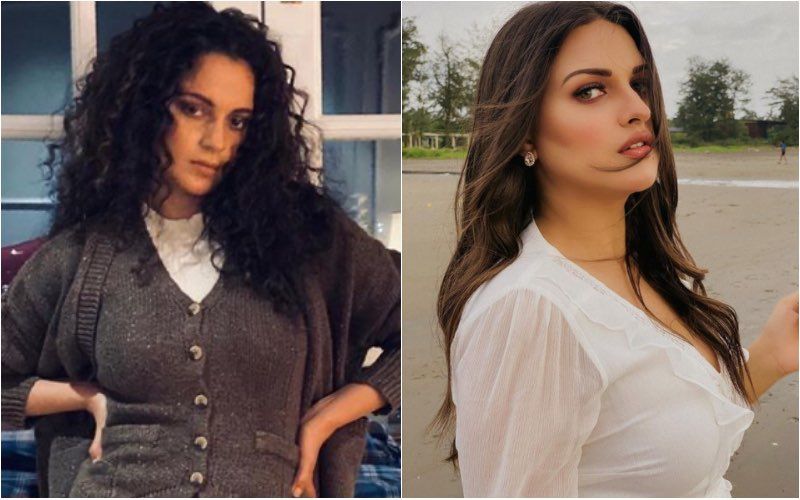 No matter how people are going to react to her opinions, actor Kangana Ranaut is pretty fearless and carefree when it comes to dishing out her views on her social media accounts. Some agree to her while some people like Punjabi star Himanshi Khurana will speak against her and will not favour her judgments. Just recently, when she shared a tweet on farmer's protest, the Bigg Boss 13's contestant slammed Ranaut and her views. She even questioned if Kangana Ranaut is the spokesperson and alleged that the actress is trying to change the topic by talking about riots in her tweet.
However, now, it looks like Kangana seemed to have not liked Himanshi's comments as she has blocked the actor from Twitter. How do we know that? Well, Khurana took to her Instagram stories and shared a screenshot of her Twitter account, showing her followers that she is being blocked from the actor's account. Reacting to this gesture, Himanshi wrote, 'Wohhh. Krta block'.
While reacting to Kangana Ranaut's earlier tweet, Himanshi Khurana had written, "Oh she's spokesperson new.....baat ko galt angle dena inse sikhe koi..... taki kal ko ye log kuch kre pehle se hi logo me reason faila dia ko kyun Riot honge...." She not only blasted Ranaut for her views on the farmers but she even called her shameless when Kangana shared a video wherein she can be seen rejoicing as Bombay High Court quashed BMC's order directing demolition of alleged alterations carried at her Bandra office.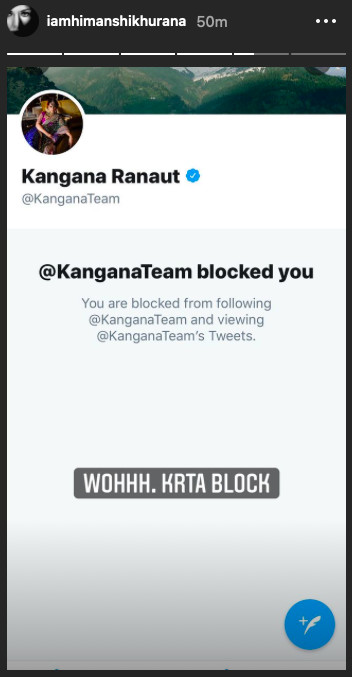 Image source: Instagram/ kanganaranaut/ iamhimanshikhurana