Bigg Boss 13's Mahira Sharma And Paras Chhabra Are Keeping A Window Open For Romance, 'We Might Organically Start Liking Each Other'
BB13 contestants Mahira Sharma and Paras Chhabra who have been linked to reach other, spill the beans on their rapport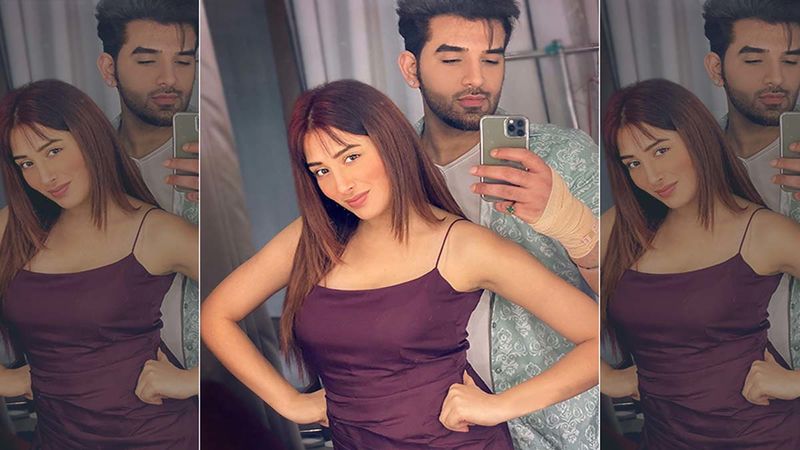 Bigg Boss 13's contestants Mahira Sharma and Paras Chhabra have continued to remain friends even after the show came to an end. Reflecting this bond between the two are their music videos which have left the audience in awe of them, so much so that they are referred as a couple. In a recent chat with ETimes TV, the duo spilled the beans about it, both Paras and Mahira hinted about leaving a room open for it, but denied being a couple in the current time.
Mahira shared about both of them being real and not fake when it comes to their bond, she also mentioned if something is meant to happen between them it should be natural. "During and post Bigg Boss 13 a lot has been said about Paras and me. There were so many statements made Mahira ne ye kar diya, woh kar diya and all. But we believe in reality as we are not fake. We don't like to pretend or fake things. If something has to happen between us, it was happen naturally. We are not trying to show-off that we are together or we are dating, we geuninely like each other as friends. And that's why we are together," says Mahira.
Also Paras sounding somewhat similar mentions they still continue to be friends and not being in the mood to date or tie the knot, but if they start liking each other naturally, will surely give it a shot. Also mentioning about not being bothered about their link up, as it has been constant ever since the two bonded in BB13 house.
Mahira in her conversation also mentions that while most people don't stay in touch post the show wraps up, the two have remained loyal and honest to each other. "We are very loyal and honest towards each other. It was the same because of which we bonded in the Bigg Boss 13 house and now outside also, we are the same. I don't make too many friends, I have limited friends and when I make anyone my friend, he or she is part of my life forever."
The duo who recently shot in Kashmir for one of their music videos, though were thrilled to shoot in Kashmir, but were equally worried about the ongoing COVID-19 pandemic. Mahira shared about her shooting experience where she mentioned about sanitizing every little thing she used during the shoot, from doing her own make up and also taking care of her staff. , "I have been taking a lot of work, I sanitise everything even the chair on which I am going to sit. I do my makeup on my own and don't allow my staff to eat at the airport or take off their mask. I was excited to go to Kashmir but at the same time I was scared also," says Mahira. ALSO READ:
Happy Friendship Day 2020: Mahira Sharma Calls Paras Chhabra Her 'Friend That Became Family' In A Special Post, Pahira Fans Are Delighted
Further she added, "The airport authorities did my coronavirus test and I was quarantined for a day. Even though I was all fine because of the tension I started feeling dizzy. But once the report came I was all relieved. I had a blast in Kashmir and a lot of childhood memories came flashing in front of me. I feel if you take proper care and maintain safety, you can work and travel. Just don't forget to wear a mask, gloves and carry sanitizers."
Adding further Paras mentioned how the two also followed safety measures on the location. "We only took off our mask when we were giving the shot.In fact, Mahira and I were even sitting at a distance and maintaining social distance. The fear was there but we had a lot of fun because we got to work after the lockdown. We had done a music video hashtag love but it was done under strict security and proper lockdown. This was a little better than the previous shoot," he added. ALSO READ:
Mahira Sharma Dashes Off To Kashmir For A Shoot; Says 'I Am Apprehensive But Work Commitments Need To Be Fulfilled'
Image Source: Instagram/officialmahirasharma