Bigg Boss 13's Shehnaaz Gill Feels A Little Jealous After Sidharth Shukla Reveals His Experience Working With Neha Sharma; Asks, 'Kitna Acha Tha?'
Was Bigg Boss 13's Shehnaaz Gill jealous when Sidharth Shukla talked about his amazing experience with Neha Sharma in Dil Ko Karaar Aaya? Well, it looks like it. Check out the video here!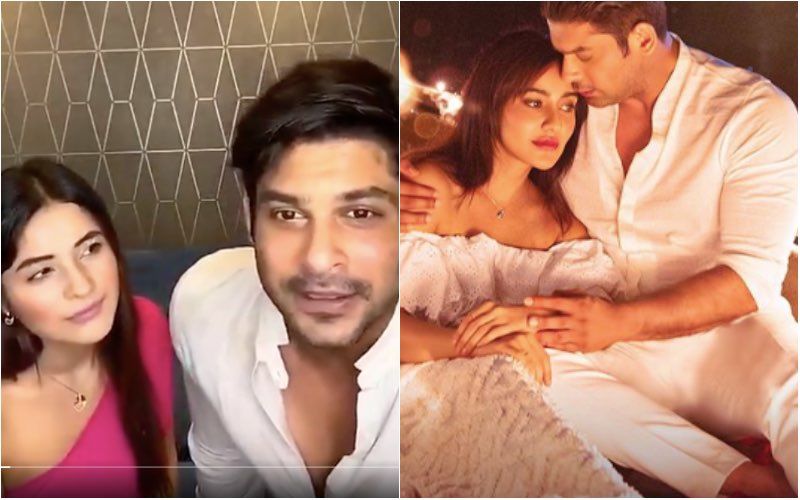 Shehnaaz Gill and Sidharth Shukla are touted to be one of the cutest couples in the Television world after the two were seen in Bigg Boss 13. From their silly fights, their romantic and cosy moments to their jealousy, fans have witnessed every aspect of their relationship on the show and that's how they got a term from their names which is #SidNaaz. But as we speak of jealousy, we got to see a hint of it in Shehnaaz during their recent Instagram Live session and it is too cute for words. Well, just sometime back, both of them went live on Instagram and one fan asked Sid about his experience of working with Neha Sharma in his recently released romantic single, Dil Ko Karaar Aaya.
To which, Sid quickly chimed saying that it was really good. Seeing his response, Shehnaaz asked him, 'Acha? Kitna acha tha?' Sidharth teasingly responded, 'Ha bohot hi acha tha.' She then repeated his words which slightly gave an impression that she felt a little jealous. Obviously, it was all in good spirit but the Punjabi star's reaction to it was priceless. Without further ado, watch the video here:
During the session, their fans even asked when will they come back again for another single as they were last seen in Bhula Dunga which was released 4 months ago, to which Sidharth gave some hopes saying it will happen soon.
😂😂😂😂😂😂😂😂
I felt sherawali mata vibes after watching this😂😂😂😂😂😂😂

Sana- Kaisa tha experience?
Sid- Bohot acha tha..
Sana-Bohot hi acha tha iska experience 😂🙆

That look tho! When He took Neha's name😂🙆#SidNaazLive pic.twitter.com/0TcycTVkwW

— THAPPAD ABHI KHAYEGA YA BADME😂 (@SidNaazFever3) August 1, 2020
Meanwhile, both of them released new singles, Shehnaaz released a peppy track, titled, Kurta Pajama with Neha Kakkar's Tony Kakkar. On the other hand, Sid revealed a romantic number, Dil Ko Karaar with Neha Sharma and both the songs have topped the chartbusters.
Image source: Instagram/ Twitter/ SidNaazFever3