Bigg Boss 14: Andy Corrects Kamya Punjabi's 'Eijaz Khan Made Nikki Tamboli Wash His Undergarment' Tweet; Actress Reminds Him Of His Fight With Gauahar Khan On Her Lingerie
Here's Kamya Punjabi's good friend, VJ Andy correcting her on her recent tweet on Eijaz Khan. The two share a banter over it where the actress also reminds him of his argument with Gauahar Khan over her lingerie in their Season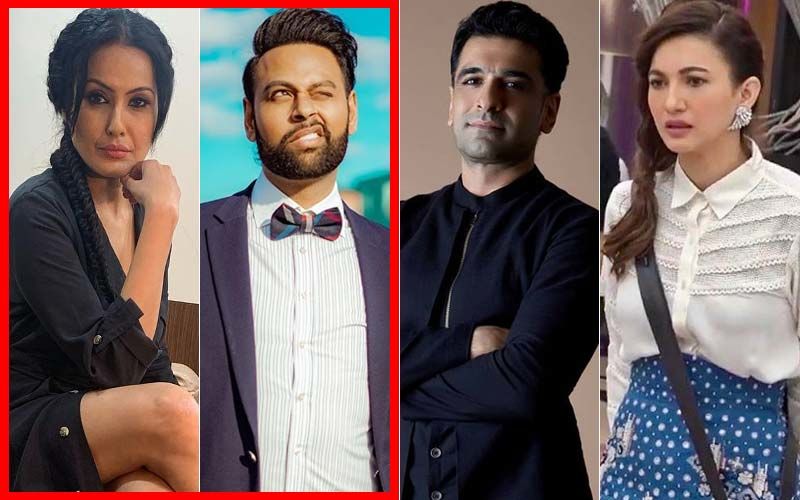 In yesterday's episode of Bigg Boss 14, we saw captain of the house Eijaz Khan making a deal with co-contestant Nikki Tamboli to pretend as his personal assistant in front of other housemates. Also, to follow all his orders including all his clothes which eventually he will only do and keep it and she just has to show she has done it. Later, in the episode we see Nikki passing with a bucket of clothes and Eijaz asking him if she has washed everything? Also, his underwear which was beeped in the episode to which Pavitra gets shocked and asks if he actually asked her to wash his undergarments.
Actress Kamya Punjabi took to Twitter to question his stunt and in return got a reality check from the netizens. Also, her friend Andy intervenes to correct her.
Kamya's friend Andy intervened and corrected her by tweeting, ".@KhanEijaz was joking @iamkamyapunjabi love. @nikkitamboli would never wash anyone's underwear! ".
After Kamya reminded Andy of the incident over Bra which apparently took place in his season. The VJ replied, " I remember the bra very well @iamkamyapunjabi, kash tab bhi sab itne forward thinking hote! @BiggBoss has moved on, so has the mentality of the audience watching. Now, ex boyfriend's underwear is even steamed in full public view! All my love."
For those who are unaware about the incident, Andy in his season during a task, misbehaved with Gauahar Khan by flaunting and passing crude remarks on her lingerie. As a result, Gauahar got very upset with Andy and after the end of the task, conveyed to Andy that his means and methods were quite cheap and unacceptable. She also said that she considered Andy to be one of her best friends and had never expected this kind of behavior from him and would prefer to keep a distance from him going forward.
Kushal was a part of this outburst by Gauahar and was enraged by Andy's unapologetic demeanour. Unable to control his anger at Andy's behaviour, Kushal ran towards Andy and tried to hit him. While the other housemates tried to stop Kushal from causing Andy any physical harm, Kushal continued to abuse Andy endlessly.






Image Source: Instagram/gauaharkhan/eijazkhan/iamvjandy/panjabikamya