Bigg Boss 14: Captaincy Task Sees A Tussle Between Jaan Kumar Sanu And Eijaz Khan; Jaan Ends Up Sobbing – Video
Jaan Kumar Sanu and Eijaz Khan who had a strong bond like brothers are now seen fighting like two alpha males. In the latest promo of Bigg Boss 14, Jaan is seen breaking down in the house after he fights with Eijaz Khan during the captaincy task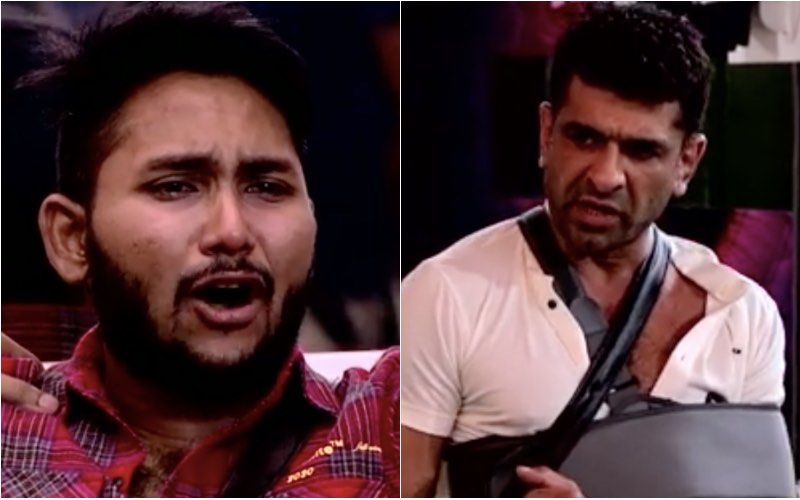 Bigg Boss 14 seems very unpredictable; at one point, they are friends and at the other point, they become arch-rivals to each other. The contestants are flipping their gameplay and strategies in a jiffy. Nevertheless, Bigg Boss has now announced captaincy task among them but this time, the new captain of the house will be decided through a task which will only be participated by the previous captains of the house and they are Kavita Kaushik, Jasmin Bhasin, Aly Goni and Eijaz Khan. However, as a replacement of Eijaz, Pavitra Punia will be participating in the captaincy task. Amidst this, Jaan Kumar Sanu and Eijaz Khan who had a strong bond like brothers will now be seen fighting like two alpha males.
In the latest promo of Bigg Boss 14, Jaan is seen breaking down in the house after he fights with Eijaz Khan during the captaincy task. It so happened, Jaan says that his first preference was Eijaz Khan, task's sanchalak Rahul Vaidya asks Jaan why he didn't tell him Eijaz was his first preference, he said that people here are unaffected even if you stand with them. He said that making Eijaz his first preference was his fault. He accused Eijaz of flipping sides and using him. Eijaz then comes to him and says that he doesn't owe him any explanation, to which, Jaan, all teary-eyed, yells at him and says that he doesn't want any. Later, Jaan said that Aly Goni is the only one in the house who took a stand for him since day one as he then cries in front of everyone.
Jaan also makes it clear that he doesn't want Kavita as the new captain of the house while we also see a war of words between Eijaz and Rahul Vaidya when he participates in the task despite being the sanchalak.
Image source: Instagram/ colorstv