Bigg Boss 14: New Task Causing A Rift Between Rubina Dilaik- Abhinav Shukla? Latter Gets Irritated, Says 'It's So Difficult To Talk To You'
During a task in Bigg Boss 14, Abhinav Shukla gets irked at Rubina Dilaik. Calling her a bad listener, Abhinav says it's extremely difficult to talk to her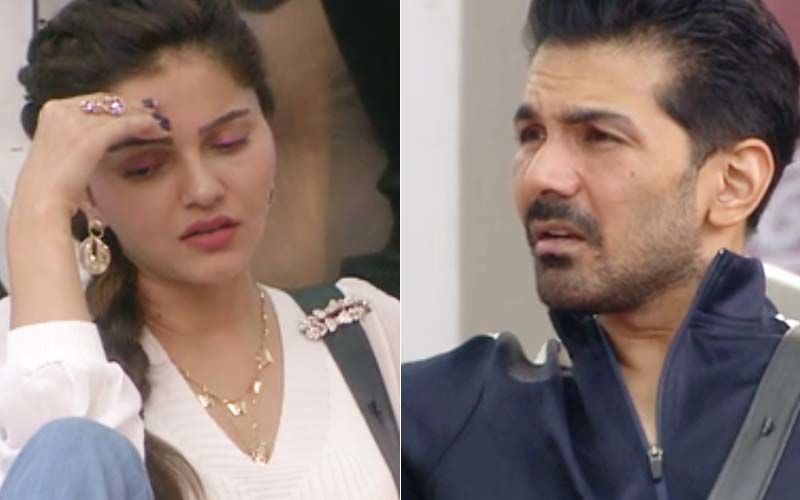 A few days ago, Ekta Kapoor had appeared on Bigg Boss 14, and was seen interacting with contestants one by one. While speaking to Rubina, she advised that Rubina should play her own game and not get influenced by her husband Abhinav Shukla. Rubina said that she is afraid of disrespecting him, after which Ekta Kapoor told her that she should play her game, even if it means going against Shukla. Since then, Rubina was seen taking her own stand, and has been making her point of view known. However, as Abhinav felt Rubina wasn't taking his advice seriously during a task, Abhinav got irked by her.
In the recent Panchayat task, Abhinav pointed out that Rubina was avoiding having conversations with him, and wasn't listening to his advice. First, Abhinav was seen talking to Rubina, asking her to rehearse with him what she would say duing the task. However, Rubina avoided this by saying she wanted to go to the washroom. This didn't go unnoticed by Abhinav who later brought it up. Later, when Abhinav wanted to discuss the strategy with Rubina, she told him to speak in the mic, after which Abhinav got irritated and went quiet.
Rubina said that she doesn't want the other team to hear their strategy, however, Abhinav was not convinced. He said that she has been avoiding him whenever he wants to talk, either by going to the toilet, or somewhere else. Calling her a bad listener, he said that it is becoming very difficult to talk to her.
Meanwhile, Abhinav Shukla and Rubina Dilaik were seen rebelling against Kavita Kaushik's captaincy. As Abhinav slept during the day, Kavita tried to stop him from doing so, leading to an argument. Abhinav then called Kavita a 'mad woman' and said that her face looks like a beaver.
Read more about it here.
Image Source: Voot.com