Bigg Boss 14: Nikki Tamboli's Mother Disgusted Over Rakhi Sawant's 'Vulgar' Comments; Slams Aly Goni And Rahul Vaidya For Supporting Arshi Khan
In her latest interview, Nikki Tamboli's mother Pramila has slammed Rakhi Sawant, Arshi Khan, Kashmera Shah, Aly Goni and Rahul Vaidya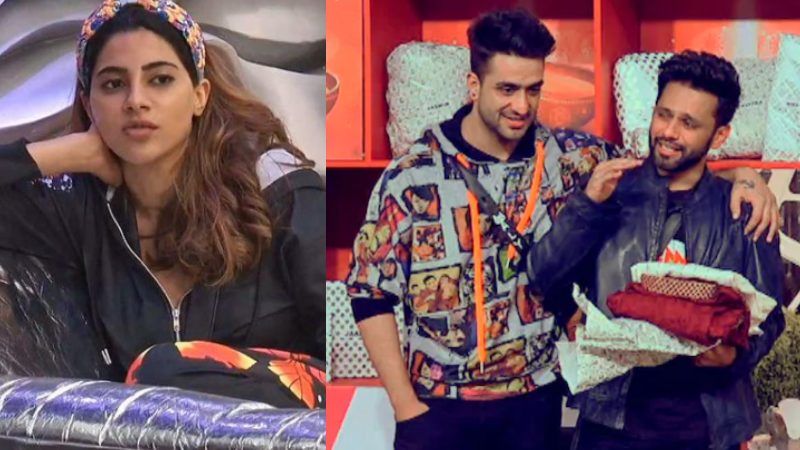 With the entry of challengers in Bigg Boss 14 house, the game has become all the more interesting. Rakhi Sawant, Arshi Khan, Kashmera Shah, Vikas Gupta, Manu Punjabi, and Rahul Mahajan entered the house with a bang. Soon after their entry, evicted contestants Nikki Tamboli, Aly Goni and Rahul Vaidya too made a comeback. Fights and drama followed too. Rakhi Sawant and Nikki Tamboli had a big fight during a task when the former abused the latter. Arshi Khan and Kashmera Shah too were heard saying ill about Nikki. Now, her mother Pramila Tamboli has given out a reaction on everything.
To Etimes TV, Nikki's mom stated that the language being used in the show is vulgar. She also stated that the ladies have problem with everything Nikki Tamboli does. "I don't know how people are finding it comedy. If this is comedy for them I feel it is very down market. The things that are being said on the show are vulgar and I am shocked that these things are being shown on the show. I was having food yesterday and saw Rakhi Sawant passing comments on potty. What kind of language it is and you are comparing food with potty. I don't understand their problem with Nikki. They have objections about everything."
After the episode, Nikki Tamboli had a meltdown of sorts and stated that she wants to quit Bigg Boss 14. Pramila Tamboli expressed that she could not sleep the night she saw her daughter crying all alone.
She even expressed disappointment over Rahul Vaidya and Aly Goni supporting Arshi Khan and laughing when Rakhi Sawant abused Nikki Tamboli. She said, "Rahul Vaidya and Aly Goni are actually supporting Rakhi and Arshi and motivating when they do such things. I think Rahul holds a grudge in his heart against Nikki because she had said a few things about him and he is using Arshi and Rakhi against her now. So, he is not doing anything in the forefront but making this woman do it. I don't know what type of a man he is. Now they are supporting Rakhi and Arshi but the day these women will abuse Jasmin things will change. And I know it will happen." (Also Read:
Bigg Boss 14, Nikki Tamboli's Mother BLASTS Kashmera Shah: 'Nikki Is Of Her Daughter's Age'- EXCLUSIVE)
Image Source: Instagram