Bigg Boss 14 PROMO: Rakhi Sawant Wants To Steal Rubina Dilaik's Husband; Asks 'I Love You Boldun Abhinav Shukla Ko?'
In the latest promo video of Bigg Boss 14, we see Rakhi Sawant getting all emotional over her husband Ritesh who has not revealed his identity yet. Funnily, she even states she likes Abhinav Shukla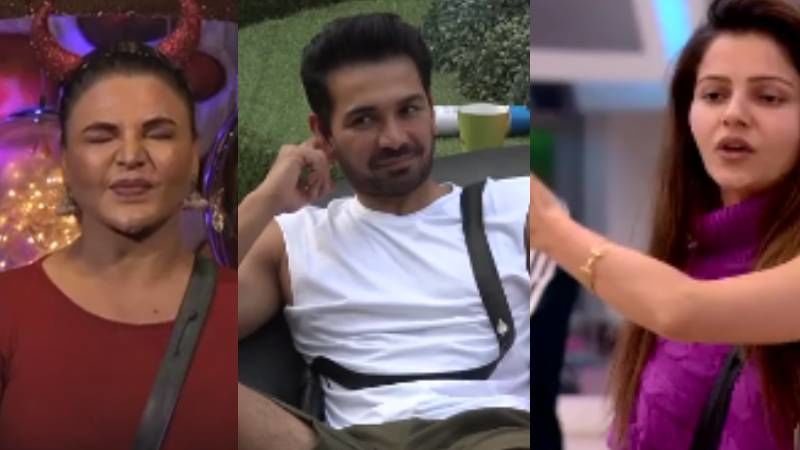 Rakhi Sawant is currently the biggest entertainer of the Bigg Boss 14 house. She and her antics are widely talked about by all. She has often spoken about her NRI husband Ritesh inside the house and shared that she misses him dearly. In the latest promo of the show, Rakhi Sawant gets called in the confession room. She is asked how she is feeling and she has a meltdown of sorts sharing that she feels bad when she looks at husbands of others.
Rakhi Sawant cries that her husband has not revealed his identity yet and she misses him very much. She goes on to say that looking at everybody's husbands, she feels really bad and funnily states that she wants to steal Rubina's husband Abhinav Shukla. Rakhi also mentions that she really likes Abhinav Shukla and has a crush on him of sorts. She asks Bigg Boss, "Kisiko like karna gunha toh nahi? (Is it a crime to like somehow?" To this, Bigg Boss says, "No".
Upon hearing this, Rakhi Sawant says that "I should say I Love You to Abhinav Shukla". She also goes on to appreciate Abhinav's sexy abs. Check out the promo video here.
Rakhi and her antics are always so hilarious. Talking about her husband, Ritesh in his latest interview revealed that he is willing to enter the Bigg Boss 14 house and talks are on. In an exclusive interview with us, he said, "I feel groups have been made and pairings are done. Jasmin Bhasin has Aly's support. Rubina is there inside with her husband. Which is unfair for other contestants to an extent. They had reached out to me for stage sharing but I have clearly mentioned to them that I don't want to do that. If you all want me to come on show, then take me as a contestant and lock me inside the house. Discussions are on now as they wanted me to enter this week but I am occupied with some personal work. So, I can only enter in the first or second week of January. Things haven't been fixed yet but they are working on it." (Also Read:
Bigg Boss 14: Rakhi Sawant's Husband Ritesh On Entering The Show As A Wildcard, 'I Don't Find Myself Deserving To Win'- EXCLUSIVE)
Image Source: Instagram/colorstv