Bigg Boss 14: Rakhi Sawant Questions Nikki Tamboli And Rahul Vaidya's Friendship As She Finds Them Conversing In A Corner; Comments 'Disha, Rahul To Gaya'
Rakhi Sawant in yesterday's Bigg Boss 14 episode was heard talking about Nikki Tamboli and Rahul Vaidya's equation and she also dragged in Disha Parmar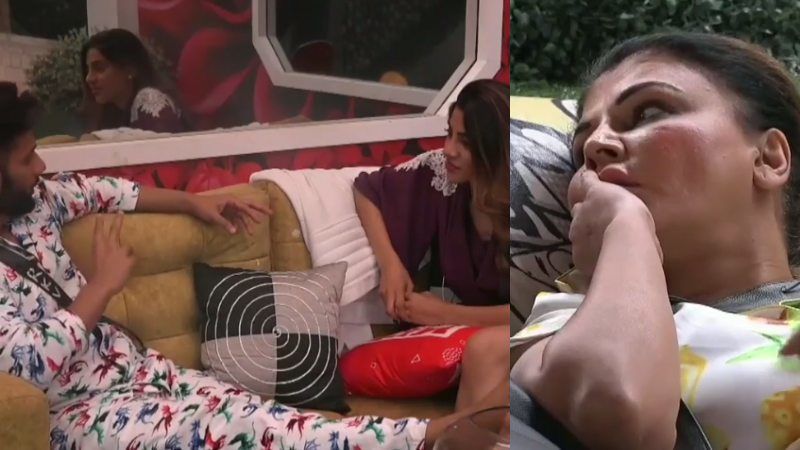 Rakhi Sawant has been an entertainer of the Bigg Boss 14 house. However, often she has been reprimanded for the language she uses. Even Salman Khan has adviced her to keep a check on the words she uses and more. In last night's episode of the controversial show, Rakhi was heard saying mean things about Rahul Vaidya and Nikki Tamboli. She questioned their friendship and even dragged in Disha Parmar, who Rahul proposed on national television.
As Nikki Tamboli supported Arshi Khan in immunity task, Rahul asked her to come aside and he wanted to clarify a few things. Looking at them having a chat, Rakhi stated, "Disha, Rahul toh gaya. mat kar mat kar. Nikki ne toh perfume maarke lapet liya Rahul Vaidya ko (laughs)." Later, a full video of Rakhi talking about Rahul and Nikki got uploaded on social media. In the video, we hear Rakhi stating that Nikki makes Rahul's bed, keeps food for him, makes parathas, and woes him. She also stated that Nikki has a new target every week. Rakhi did not stop here. She even stated that Rahul Vaidya is a player and he would date both - Nikki and Disha,
She was quoted saying, "Ye iska bistar theek karrti hai, ande laake deti hai, uske liye khaana rakhti hai, paratha banati hai. Isko jisko patana hota uske liye ye sab karrti hai, harr week ek shikaar. Isko lagta hai ye pagal kar degi Rahul ko aur woh Disha ko bhul jaayega..Rahul Vaidya bhi chanth hai. isko bhi rakhega.. isse bhi affair karega usko bhi patayega. Rahul apne aap ko bahut dhedh shaana samjhta hai..usko samjha raha hai...tingne tu Aly Goni ke bagair nithala hai tujhe lagta hai Aly tera dost hai toh tujhe sab support karenge, Aly ke shoulders ka support leke vaar karta hai..Tu game khel raha hai Nikki ke ankhon mein aankhen daal ke pata raha hai. darling ye woh, bahr Disha hai phir bhi Nikki ke emotions ke saath khel raha hai. Aur woh bhi pagal ho rakhi hai."
Image Source: Colorstv