Bigg Boss OTT: Shamita Shetty's Mother Sunanda Shetty Wins Over The Internet With Her Positive Aura And Unbiased Attitude-See TWEETS
Twitterati are left awestruck by Shamita Shetty's mother Sunanda Shetty's positive vibe on Bigg Boss OTT and are all praise for her.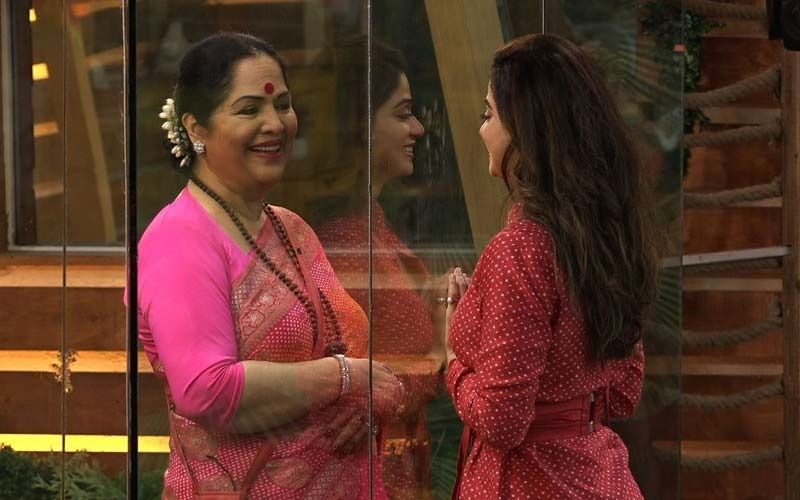 As Bigg Boss OTT is inching closer to its finale, the makers gave contestants a chance to meet their family members and close ones. In the last episode, the family members and friends of the housemates entered the BB house to support them. Shamita's mother Sunanda Shetty also entered the house and motivated her daughter. The mother-daughter duo indulged in a heart-to-heart conversation and discussed many things. Notably, Sunanda Shetty is now being praised on Twitter for her positive aura.
Netizens flooded the microblogging site, heaping praise on Sunanda Shetty for being upfront and unbiased towards everyone. Many opined that she brought a positive vibe to the house. One of the users also hailed Shamita's mother for her honest opinion about Divya Agarwal. Sunanda praised Divya's game and said that at least she is using her head in the game.
One Twitter user tweeted, "For some reason I got so motivated listening to #ShamitaShetty mom Man what positive energy she had beautiful Well raised," another wrote, "Wow #ShamitaShetty mom is pure love. Two beautiful daughter and what a beautiful classy dignified lady."
"#ShamitaShetty's mother, sweetness Strength, positivity and love radiates frm her so her daughter Im so so so happy for my #ShaRa #BiggBossOTT #BBOTT." reads another tweet.
Take a look at more tweets below:
@ShamitaShetty's Mom is SO BEAUTIFUL & Her Aura is SO Royal-ish! 😍😍😍😍😍😍 The way she spoke with such elegance, I'm in Awe of her, man! 🙌❤️
ABSOLUTELY LOVED EACH AND EVERYTHING SHE SAID! SO ON POINT! 👌👌

SHAMITA SHETTY RULING HEARTS#ShamitaShetty #BiggBossOTT #BBOTT

— A Dreamer's Musings (@dreamer_musings) September 13, 2021
The finale week started on a very light and cheerful mode as contestants were seen laughing and dancing around the house. Later, Bigg Boss announced the Freeze task and surprised the contestants by calling their family members. Pratik's sister, Prerna, came inside and warned him to create a thin line between his and Neha Bhasin's friendship. Raqesh's niece, Isha also came to support the actor.
Bigg Boss OTT will have its grand finale on September 18.
Image Source: ColorsTVPR