Divyanka Tripathi Not Content With 9.7 M Followers: "Wants To See The Double Digit Soon"
Divyanka Tripathi is undoubtedly TV's most sought after actress and she has recently made a record of becoming the first TV celebrity with maximum social media followers. We spoke exclusively to Divyanka on her latest accomplishment. Read on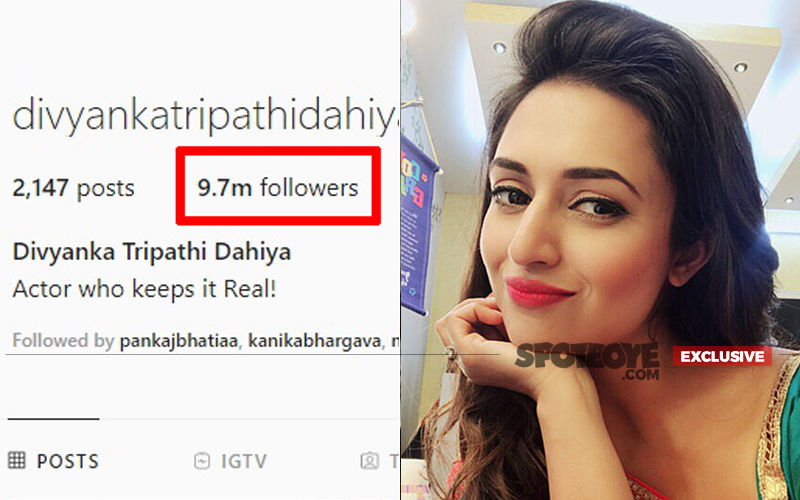 Divyanka Tripathi has become the first TV star to have maximum number of followers on Instagram. The actress has recently reached 9.7 million followers which is far ahead from many popular Bollywood actresses also. Needless to say, actress is on cloud 9. We got in touch with Divyanka, who shared her excitement and also gave a special message to her ardent social media fans. Excerpts from the conversation:

9.7 million Instagram users are following you now, how does it feel?

I always get surprised and happy to see the number of people following me. It's over-whelming to connect with them who are actually strangers. There are a few people who like me for my fashion sense, few like me for my smile and many for my work. And then, there are also people who follow me for bashing (laughs). At times they follow me just because they don't like me. So, there are different reasons attached. I too love visiting their profiles at times. Just to see what's happening on their side of the world. So, it's not only that they are following me but I also love entering into their space and learn about them (smiles).
Do you find it difficult to keep them happy as per their expectations?

Yes, of course! But you can't keep everyone happy all the time. Like when I post a fitness picture or a video where I am working out, even though I have lost 6 kgs, someone still comments, "Oh! You have got a big tummy, do something about it" But such things don't bother me much. Similarly, when I post my close-up pictures, while many comment that you have a lovely smile, there will be someone who will say, "You have got such a big nose". So, yes people come with various opinions but one thing is for sure, till the time that opinion comes in a polite manner and as a suggestion, it is always welcomed. But when somebody intentionally tries to harass or bash me, then I don't take it lying down. Why should I? This is my space. I just block them. Never let negativity be around you. People with positive vibes are always welcome.

Anything you would like to share with your loyal fans?
I just feel that at times my fans' expectations go a bit high and they turn extremely possessive. My only request to them is that please remember that I am a very normal person coming from a humble background. I have worked very hard to make my way up and similarly I make mistakes. I am grey, not black or white or a goddess.
So, they should never feel let down or they should never think that Divyanka Tripathi Dahiya is trying to hurt them. Sometimes I have not wished them on their birthday or I have not responded as or when they want me to. But that's because I have my own responsibilities. I have my work going on or I am with my family. There are times when I just want to be lazy like any random person. I try to stay connected as much as possible but I can't be perfect.

So, I would just request them to bear with me. And give me the benefit of doubt before saying that she is no more the same. They should also remember that no one can be the same always. People change with passing experiences. I am no different.

Looking forward to a double digit- 10 million?

Yes, definitely! I might hit a double digit very soon and I am excitedly waiting for it. Not only I but my friends and ardent fans are exhilarated for it. We all are so busy in our lives that we don't get time to see each other but with social media we can be connected across the world.


How will you celebrate if you reach 10 million users?

I might plan a party (laughs). Though I am not a party person but let's see. I am eagerly waiting for a double digit to reflect on my social media page.



Image Source: Instagram/divyankatripathidahiya