EXPOSED! Bigg Boss 15: Rakhi Sawant And Her Husband Ritesh Are CHEATING The Audience? Umar Riaz's Fans Share PICS Of Him With His Real Family In Bihar-Report
Fans of Bigg Boss 15 contestant Umar Riaz has shared photos of Rakhi Sawant's husband Ritesh posing with his first wife and 'real' family in Bihar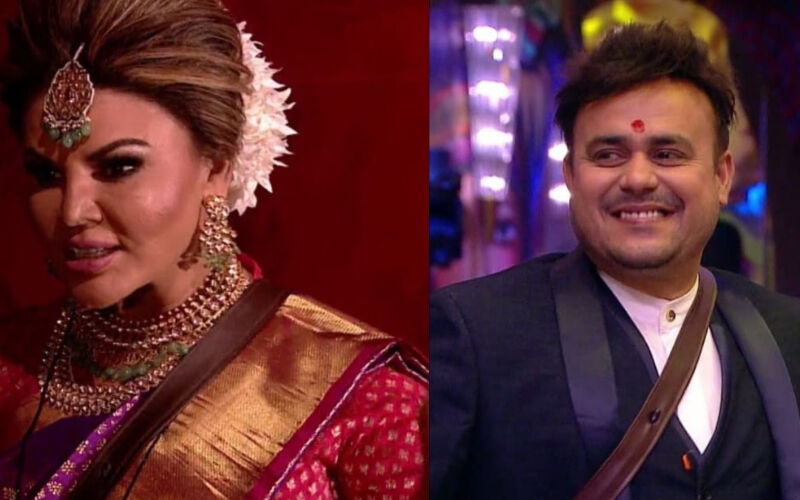 The world wanted to see the first glimpse of Rakhi Sawant's mysterious husband ever since she had announced her wedding with an NRI business. During her stint on 'Bigg Boss 14', the controversy queen had made many shocking revelations about her wedding and also revealed why her husband does not come out in public. Viewers and her fans finally got to see Rakhi Sawant's husband Ritesh on Bigg Boss 15. The dancer made a grand entry with her husband, and also spilled the beans on how they met.
However, a section of people feels that Ritesh is Rakhi's fake husband and that both are just cheating with the audience for the show. Amidst such claims, some fans of Umar Riaz have shared pictures of Ritesh with his first wife. The photos, that have gone viral on the internet show Ritesh posing with his 'real family'. The first photo is from his wedding, other features him posing with his alleged wife and child.
Sorry guys for this but makers have told me to do so I have done for my courier and future. So pls don't spread hate for me . I am simple guy .@BiggBoss see in this matter I am very shameful because of u.
Sorry to all #BiggBoss15 fans
🙏🏻🙏🏻🙏🏻🙏🏻
I am exposed 🥺😭 pic.twitter.com/8m9fOPTQvo

— 𝐑𝐢𝐭𝐞𝐬𝐡 𝐒𝐢𝐧𝐠𝐡 (@imrealriteshh) December 10, 2021
As per a Bollywoodlife report, Ritesh's first wife lives in Bihar, and that they are not formally divorced yet. The woman claimed that the wedding happened in the town of Bettiah in Bihar. She also said that Ritesh has lied about his educational background.
On Bigg Boss 15, he had stated that he works in an MNC in Belgium. He also revealed that his love story with Rakhi started on WhatsApp. While talking to the housemates, Ritesh said he was organizing an event, when his PA gave him Rakhi's number. But he didn't call her then. He said, "Some things were not going well in my life and I was depressed. I wanted to speak to someone who is not from my profession or known. I sent 'Hi' to her and she blocked me."
Image Source: PR