Ganesh Chaturthi 2020: Rithvik Dhanjani Sculpts An Eco-Friendly Idol With Clay; Gushes Bappa Is 'On His Way' - PIC
Ahead of Ganesh Chaturthi 2020, Rithvik Dhanjani gives a peek into his nearly done, handmade sculpture of Bappa and it's beautiful. Take a look!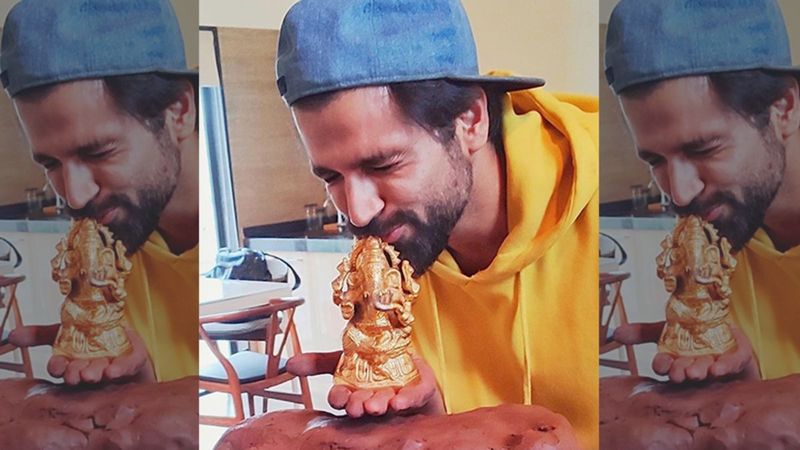 In just a few days, we will be celebrating one of the most highly-awaited Indian festivals, that is, Ganesh Chaturthi 2020. It's that time of the year when you get to hear the ear-pleasing chants of Ganpati Bappa Morya across the streets, temples and houses, as many people are gearing up to welcome Lord Ganesha. Ganesh Chaturthi, also fondly known as Ganeshotsav, is celebrated across the country, especially in Maharashtra, with utmost excitement and dedication. This year, however, the extravaganza won't be the same, thanks to the Coronavirus pandemic. However, our celebrities are leaving no stone unturned in making it special.
Something similar is the case of TV hunk Rithvik Dhanjani, who is all set to welcome Bappa. The Pavitra Rishta actor makes it a point to celebrate Ganesh Chaturthi in an eco-friendly way, without causing any harm to the environment. To do say, he has been sculpting his handmade idols from the past few years and 2020 is no exception. The picture shared by Dhanjani sees him sculpting a half-done Ganpati deity with clay. The outcome isn't here but we can see that the actor is putting in all his efforts and it's going to be beautiful. In his caption, he wrote, "On his way."
In an earlier conversation with Housing.com, the actor had opened up on his reason behind making his own idols. "After the immersion, I saw the beach littered with broken idols. It was disturbing to see how we are harming marine life. So, last year, I created an eco-friendly idol. This year too, I have made an idol of one-and-a-half ft myself, with clay. It took me three days to sculpt the idol. It is an enriching and relaxing experience, which gives me immense peace," said the actor.
Check it out:
image source: instagram/rithvik_d