Karanvir Bohra's Twin Daughters Bella-Vienna Showering Love On Their Newborn Sister Will Warm The Cockles Of Your Heart - PICS
Karanvir Bohra's twins Bella and Vienna are totally in love with their baby sister; check out a glimpse of the trio sharing a lovely sibling bond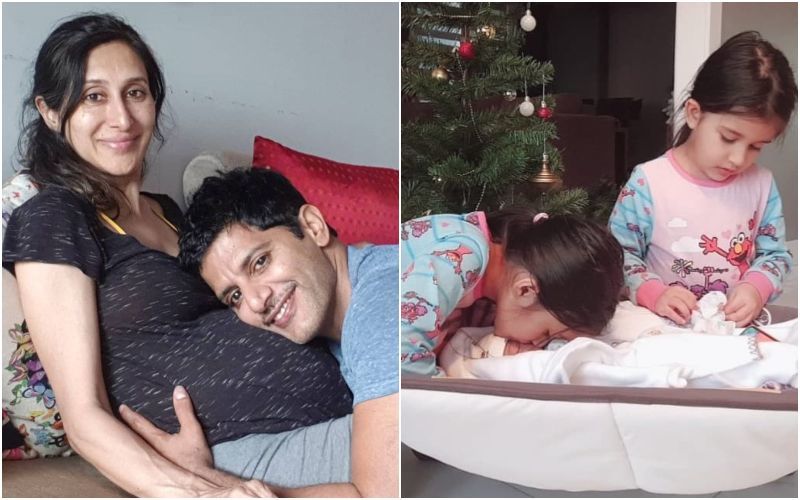 Karanvir Bohra and Teejay Sidhu have been cloud nine ever since the arrival of their third baby girl. The couple embraced parenthood for the second time. From the time KVB's third baby was born, he has been treating fans to some of the other adorable glimpses of them together. Now, the actor's twin daughters - Bella and Vienna - took to their Instagram account, handled by their mother, and shared some heartwarming pictures of them cuddling with their newborn sister. It seems that both Bella and Vienna are absolutely in love with the munchkin and can't wait for her to grow up and play with them already.
The first picture sees Bella and Vienna posing alongside the newborn baby sleeping in her cradle, and in the next picture, they carefully pecked a kiss on the baby's forehead. We couldn't get over the cuteness that these pictures oozed. Their lovely caption read, "BELLA - Being #bigsisters doesn't mean just being the #bosses, it also means helping care for the new #baby, and giving her lots of #love! That is easy for us to do. We already love her so much - we loved her even before she was born!" Now that's a pure form of love!
Check out the pictures below:
We, at SpotboyE, were the first ones to break this special news.
An elated KVB had shared the joy of once again becoming a father by saying, "It's another girl in our family. We had already decided that either a girl or a boy would be equally welcome. If it was a boy it would have been Laxmi, Saraswati and Ganesha in our family. Since it's another girl it is Laxmi, Saraswati and Parvati. I consider myself most blessed. Om Namashivay. I've become Charlie, now that I've got three angels. Charlie's Angels, Laxmi Saraswati and Parvati. Our twin daughters Vienna and Raya Bella are very excited. All through the pregnancy, they keep kissing my wife Teejay's tummy and wishing the baby 'Good Morning' and 'Good Night' every day."
image source: instagram/karanvirbohra, twinbabydiaries