Karanvir Bohra's Wife Shares An Adorable Video Of Her Sonography On Their Twin Daughters' Sixth Birthday; Writes, 'How It All Began With You My Darling's'
Karanvir Bohra and his wife Teejay Sidhu shared an old video of her sonography on their elder daughters' birthday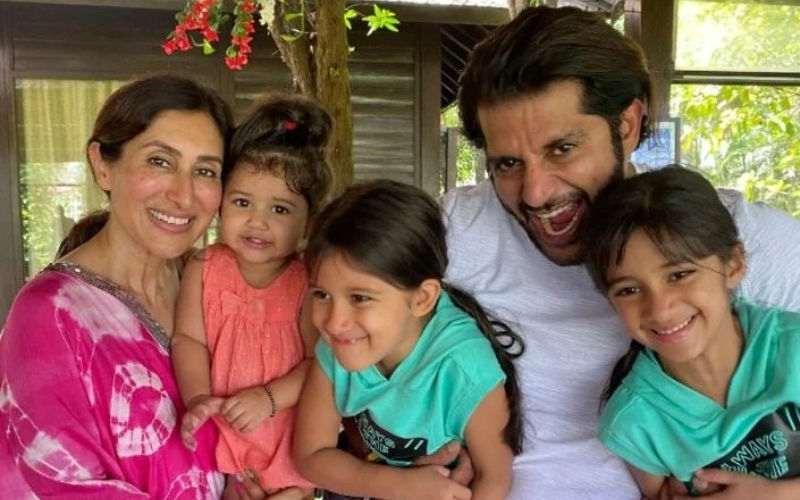 Karanvir Bohra and Teejay Sidhu are one of the most loved celebrity couples in the TV industry. The duo embraced parenthood after 10 years of marital bliss. As of today, they are proud parents of 3 daughters, their eldest being Bella and Vienna, twins, and Gia.
Recently, Teejay Sidhu and Karanvir Bohra took to Instagram to share an old video of their sonography when the former was pregnant with the twins. In the video, Teejay is seen laying on the couch surrounded by their family getting her sonography done, while Karanvir handles the camera. They captioned the video, "How it all began with you my darling's …. 6 years ago @twinbabydiaries And a very happy birthday to you my dear sister @pinkstarz19 who knew they would share the same day with you"
Bringing a new life into the world is one of the happiest phases of a couple's life, but losing that life takes a toll on their mental health. Talking about how they lost a baby before conceiving Gia, the Lock Upp star revealed, in a previous interview, that it had happened during the COVID-19 pandemic. He shared that the reason behind not telling anyone about this was because they wanted to protect themselves and not be subjected to many questions.

Karanvir said, "Before Gia we lost a baby during COVID. We were so scared to not tell anyone about it because we didn't want people to say 'Arre yaar ye kya hogaya, kaise hogaya, kyu hogaya'. Maybe to protect ourselves we didn't want to say. We had to lie from our own family, from our own relatives. When we talk about mental health issues come from home only. They start from home, because ghar waale kuch bolte hain, maybe they don't mean it, they speak out of concern. Her family does not know, my family does not know. At that point we felt we lost emotional well-being, mental health."