Karishma Tanna On Insider Vs Outsider Claims; Says, 'If That Was That Case, Karan Johar Would've Never Taken Sushant Singh Rajput In Drive'
In a recent interview, Karishma Tanna says if insider vs outsider was an issue, Karan Johar would've never cast Sushant Singh Rajput in his film.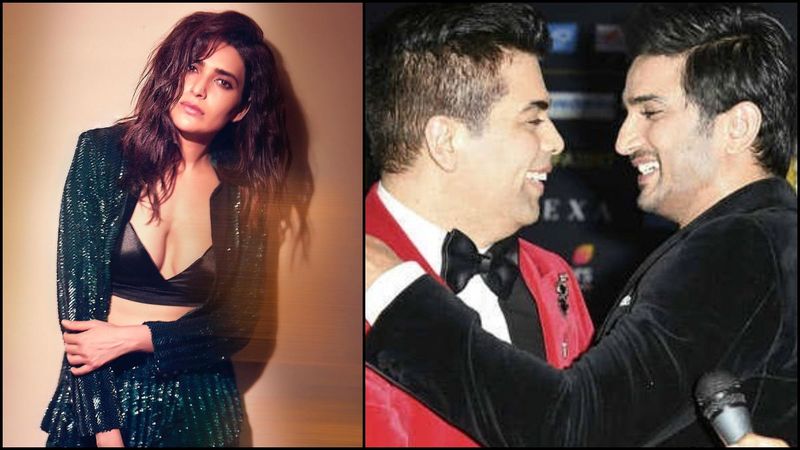 Sushant Singh Rajput's untimely demise has only added to all the outrage over nepotism. A huge section of the internet has been schooling many Bollywood bigwigs and star kids for allegedly adding to the late actor's degrading mental health. The insider vs outsider debate, too, has gained momentum with a lot of celebrities belonging to the latter category opening up on their ordeals. Now, TV actress Karishma Tanna, in an interview with Pinkvilla, shared her two cents about the ongoing debates. As per Karishma, Sushant got the best of opportunities and that there's no such thing as an insider vs outsider for him.
Karishma said, "Sushant Singh Rajput got really good opportunities throughout, from the time he shifted from TV to films, he has only got the best opportunities. Not even once he has worked with a normal production house, always worked with ace production houses, and all the A-Lister heroines. I wouldn't even debate on the insider and outsider debate, it is about who is good at acting, who fits the role, and who the producer wants. It is as simple as it gets." She further stated how being an outsider was of any problem, Karan Johar would've never cast him in Drive.
"I don't believe there is an outsider and insider world because if that was the case, Karan Johar would have never taken Sushant in Drive, Rajkumar Sir wouldn't have taken him in PK. I just feel that from TV to jump into films, the struggle is a little more. I don't mind the struggle because then you can't enjoy the little success. I have never got easy success, nor do I expect it," added the actress.
Spilling the beans on her thoughts on nepotism, Karishma said, "About nepotism, I have always believed that if I am an ace producer and if I have a sister tomorrow and if my sister's son is good looking and can act, then why will I not give him or her the job? I will definitely give the first job to my family because a) they are worth it and b) because I am in that position of casting him but that doesn't mean I won't give an opportunity to someone who is not from my family. I will definitely do that but nobody can hold that against me. Because I don't think that it is fair."
In other news, Karishma Tanna recently won Khatron Ke Khiladi 10 by beating the likes of Dharmesh Yelande and Karan Patel.
image source: instagram/karishmaktanna, karanjohar