Khatron Ke Khiladi 11: Divyanka Tripathi Trends On Twitter As Her Fans Are Disappointed With Arjun Bijlani's Win-See Reactions
Fans of Divyanka Tripathi took to Twitter to express their anger and disappointment over Arjun Bijlani winning Khatron Ke Khiladi 11!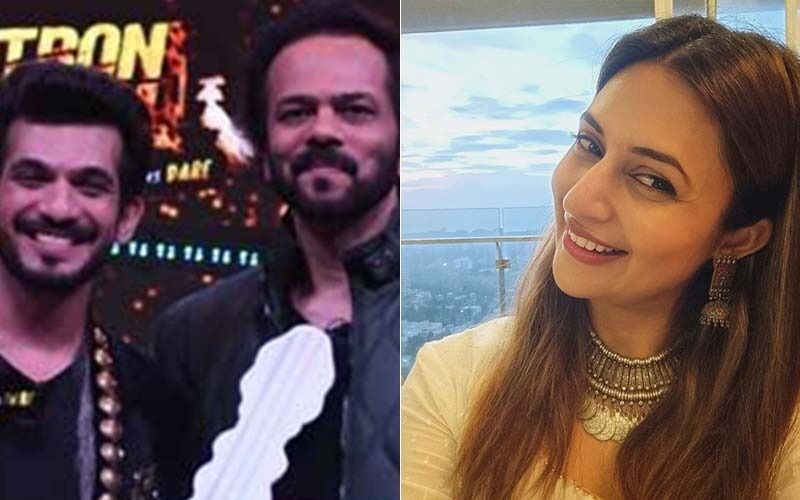 Actress Divyanka Tripathi might not have won Khatron Ke Khiladi 11 but she has certainly won the hearts of her fans with her brilliant stint on the show. The actress emerged as the first runner up of Rohit Shetty's show, and lost to Arjun Bijlani just by a minute margin of 20 seconds. During her stint on KKK11, Divyanka consistently performed well and nailed every daring stunt. While Arjun's fans are celebrating his win, Divyanka's ardent fan base has expressed their disappointment on social media.
Many users called Divyanka the 'real winner' of the show. Some of the users also called Arjun's win 'fixed', a few others branded him 'undeserving'. Notably, #DivyankaTripathi has been trending on Twitter with her fans and netizens lending out their support to the actress.
While one fan said, "#DivyankaTripathi is the real winner," another commented, "If winning by khairat had a face it would definitely look like this #DivyankaTripathi ne apni trophy di tuje @Thearjunbijlani bhai doob marr #DivyankaTripathi."
"I want to salute divyanka man... what a performance ... what a journey.. winning and loosing is a part of game... but she truly raised the bar of kkk... Her attitude is what makes her a true winner @Divyanka_T #Respect #DivyankaTripathi," reads another tweet.
Take a look at more tweets below:
The finale stunt was performed by the top three finalists - Arjun, Divyanka and Vishal Aditya Singh. While Vishal couldn't make it to top two, Arjun and Divyanka had a gap of 20 seconds only between their stunt performances.

Talking about Divyanka Tripathi's impressive journey on KKK 11, she got the name 'Magar Rani' and 'Dhaakad Girl' for showcasing her fearless spirit and unexpectedly acing all of her performance. She was also praised for her courage by the host Rohit Shetty multiple times during the season's run.
Arjun Bijlani also opened up about the fixed winner claims made by the fans of Divyanka Tripathi. Hr asserted that it is sad to see that people do not even spare the host.
Elaborating further, Arjun Bijlani told Bollywoodlife, "It is very sad. This show is not based on who people like or the channel prefers. It is based on who performs a stunt faster or with more finesse. The finale stunt, I did it faster. The other day Divyanka did some stunts faster. I was better on that day, the channel was not doing the stunt. Once people see it, they'll know it is a tough stunt, and Divyanka was caught in the net for a while. Everyone who saw the stunt knew I did it faster."
Also Read: Khatron Ke Khiladi 11 Winner Arjun Bijlani On Bagging The Trophy: 'It's Always Good To Be An Underdog'
Image Source: Instagram/divyankatripathidahiya/Arjun Bijlani