Khatron Ke Khiladi 12: Rubina Dilaik Gets ANGRY And Lashes Out At Mohit Malik For Targeting Her; Says, 'I Don't Chill With Anyone'
Rubina Dilaik and Mohit Malik got into a heated argument with the actress slamming the actor for targeting her on KKK12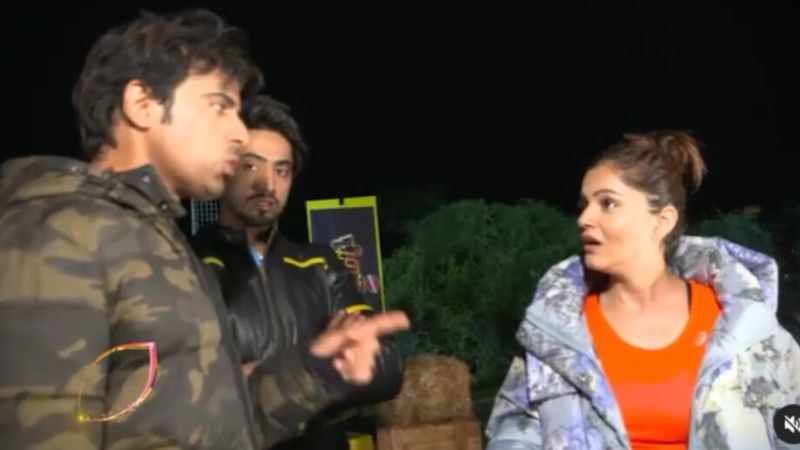 Rohit Shetty's reality show 'Khatron Ke Khiladi 12' has managed to find a top spot on TRP charts, courtesy, of celebrity contestants. Well, just like a typical TV reality show, it has all the 'masala' be it celebrity gossip, ugly fights, heated arguments, and of course a lot of drama. In the latest episode, Rubina Dilaik and Mohit Malik got into an ugly fight after the actor who was the caption, picked the actress to perform the elimination stunt.
Clearly, this did not go down well with the Bigg Boss 14 winner as she asked Mohit why he picked her despite her performing well in the task. Rubina was not happy with the actor choosing her for the elimination task. The Shakti actress complained to the host Rohit that behind the sets, a lot of friendships are brewing, everyone is making friends and they all chill around with each other. But she is an exception to this. Rubina explained that she is someone on the show who does not chill much and thus, she is being targeted for the same. The actress, however, also mentioned that all these things are actually making her stronger and that she will show everyone her potential by winning the show. ALSO READ:
OMG! Khatron Ke Khiladi 12: Rubina Dilaik Falls From Big Height, Gets Injured, Actress Rushes To Hospital After Suffering From Breathlessness-See VIDEO
In the episode, both Rubina and Mohit locked horns with each other and accused one another of doing things just to be seen on the show.

To note, the Kulfi Kumar Bajewala actor recently took to his Twitter handle to address the reports of issues between him and Dilaik. He clarified that whatever happens in the game, stays in the game and it's all eventually in a healthy spirit. He also requested everyone to keep calm and realize that at the end of the day it's just a game.
Meanwhile, TV actress Chetna Pandey is the latest contestant to have got evicted from KKK12.
Image Source: Instagram