Lock Upp: Karanvir Bohra's Wife Teejay Sidhu REACTS To Mandana Karimi's 'Behaving Inappropriately' Accusations Against Actor; 'She Is Maligning Someone's Character Just Based On Someone's Vibe'
Karanvir Bohra's wife Teejay Sidhu lashes out at Mandana Karimi for her false allegations against the actor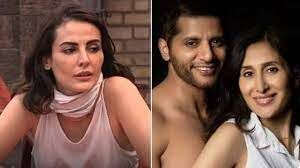 In the recent episode of Lock Upp,
Karanvir Bohra
and Mandana Karimi had a huge fight between them. According to Zeeshan, Mandana accused Bohra of behaving inappropriately with her outside.
Mandana
said that Karanvir had called her to discuss scripts many times but she never went because she has trust issues. Due to this KVB lost his calm and confronted Mandana for the same. Now, KVB's wife Teejay Sidhu in a recent interview has reacted to Mandana's false allegations against Karanvir.
Speaking to Times Of India, Teejay said, "Mandana didn't say Karanvir did anything wrong to her, from what I saw on the show she said that KV had called her once for a script reading and 'mujhe uski vibe theek nahi lagi', mujhe lagta hai uska intention theek nahi hai. And if she has said what Zeeshan is saying so confidently then it is sad. She is maligning someone's character just based on someone's vibe. It is unbelievable. You don't understand how you can do so much damage to someone's reputation by making such statements."

She added, "You need to ask the people who have been working with him for the past so many years before making such statements."
Teejay
further explained, "Mandana supported Anurag Kashyap during the entire #MeToo movement and now she's accusing KV on the basis of a vibe. It's not like Mandana is a very close friend of Karanvir, she's not. They just met in 2020. She's the one who supported Anurag Kashyap during the entire #MeToo movement and wrote a long letter on her social media supporting him and now she's accusing KV just on the basis of the vibe."
Teejay also reacted to Mandana's statement on KVB's kids and wife and revealed that her daughters adore her and thus she fails to understand why Mandana swears on her kids.


"Do not swear on my daughters, they are not your children. I don't know if I am more shocked, or disappointed than how Mandana of all people could do this. She's someone I trusted. I welcomed her into my family and it makes me so sad," Teejay Sidhu further stated.
Image Source: Google