Lock Upp: Prince Narula and Munawar Faruqui Pose SHIRTLESS; An Impressed Kangana Ranaut Says, 'Seetiyaan Maaro Ladkiyoon'-WATCH
Prince and Munavvar have forged a great bond throughout Lock Upp and in a recently released promo they can be showing off their muscles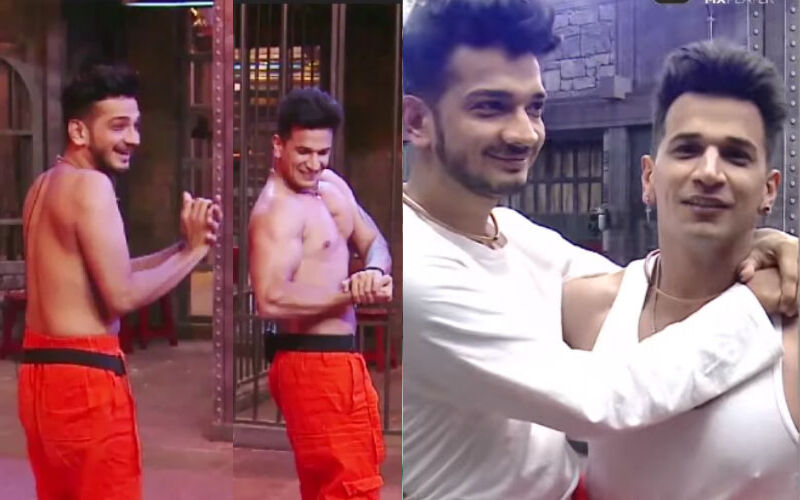 Lock Upp has garnered huge success and the television reality show has impressed the audience at large. With just a week left for its conclusion, the finale episode of 'Lock Upp' is touted to baffle the audience.
The show has witnessed several strong contestants so far namely, Munawar Faruqui, Payal Rohatgi, Prince Narula, Shivam Sharma and Anjali Arora.
Meanwhile, this week a prisoner will also have to be locked out. Ahead of the episode streaming, a promo video of 'Lockup' has surfaced and it features Prince Narula and Munawar Faruqui posing shirtless. Interestingly, other contestants were seen cheering them on.
Prince and Munawar have forged a great bond throughout Lock Upp and in a video that surfaced, Prince reminisced about his promising performance and impressing his fans. But in the recently released promo, Narula says, "Today a little bodybuilder poses, I have impressed many people in my shows." However, Munawar responds, "I don't take off my T-shirt?" Kangana Ranaut said, "Munawar will have to be removed." Further, Prince and Munawar were seen giving different poses.
Host Kangana Ranaut seemed really impressed and asked the girls to cheer for them.
Meanwhile, another promo that recently surfaced on the internet featured Payal Rohatgi telling Kangana that she and Sangram tried hard for the child but she can never become a mother.
She says, "Sangram loves children and I feel very bad that the one he wants to marry cannot be a mother. Then Sangram said we will adopt." Kangana explains to him that 'the children in the world are ours who need parents. If a person opens his heart, then there is no alien at all.
Now a week is left for the finale of 'Lockup'. Kangana Ranaut will come on Judgment Day today. During this, she will get the contestants to do many fun tasks and will also organize some contestants' classes. Talking about the strong contestants of the show so far, Munawar Farooqui, Payal Rohatgi, Prince Narula, Shivam Sharma and Anjali Arora are being considered.
Image Source: Instagram