Mother's Day 2020: Mahhi Vij, Neha Dhupia To Smriti Khanna; Moms Who Fought Fat-Shaming Post Pregnancy Like True Boss
As mother's day is around the corner, here's a look at actresses who got trolled for their post-pregnancy figures. From Neha Dhupia to Mahhi Vij, many new-moms braced some unwanted attention of trolls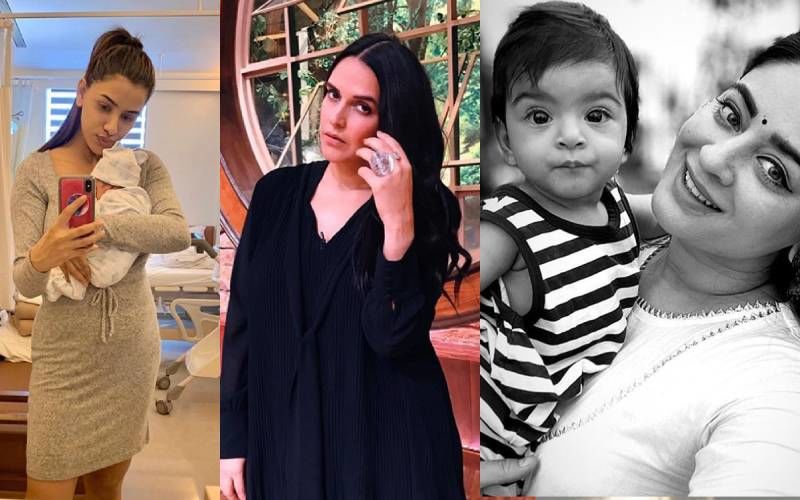 Body-shamming is not cool. While a lot of discussions on this topic have happened over the past, trolls are at it, targetting people by talking about their body type. Sadly, celebrities are an easy target of all the trolls to point fingers. Female stars especially get noticed for the physique that they carry. We have come across many instances when actresses are trolled incessantly for body image. Many ladies have faced the wrath for the post-pregnancy image. Well, as Mother's Day is around the corner, here's a shout out to all the ladies who did not take the bullshit thrown their way. From Neha Dhupia to Mahhi Vij, ladies have given back to the trolls.
Starting with Mahhi Vij, the actress post giving birth to her baby girl Tara was body-shammed for her pictures. Mahhi did not shy away from posting her post-pregnancy pictures and that gave the opportunity to the trolls to pass unwanted comments. However, the lady gave it back to all with full power. She posted a picture with her baby girl on Instagram and wrote a long post on body-shamming. She wrote, "Let's get one thing straight, Body-shaming someone is never OK, even if the target is a public figure. However, despite the fact that this should be a universal rule of decorum, people are still prone to criticizing the appearances of others, including those of new moms."
Neha Dhupia who has been a gang-leader of a reality show too has faced the menace of fat-shaming post giving birth to her baby girl Mehr. Like a boss lady, she gave it back to those shaming her for post-pregnancy weight and wrote, "I don't owe anyone an explanation because fatshaming like this doesn't bother me one bit. But I do want to address this as a larger problem because fatshaming needs to stop for EVERYONE not just celebs."
Another TV actress who recently got trolled for her post-pregnancy body is Smriti Khanna. However, her tale is a little different. Smriti Khanna managed to get back to her fit self within a week of giving birth and that made trolls to point fingers at her. As she shared her picture showing off her abs, trolls slammed her saying that the picture was edited. She then uploaded a video showing off her toned body and even showed the middle finger to the trolls.
TV actress Chhavi Mittal could not escape the wrath of trolls either. Chhavi was however trolled for wearing tight clothes while she was pregnant. She then took to social media to give a befitting reply to those who had a problem with her dressing. She wrote, "What I often hear (especially in person) are things like: "How can you wear such tight clothes, aren't you uncomfortable? You're pregnant" My God you're so dressed up for work, even in pregnancy!""Arre pregnant ho, kucch bhi pehno chalega" And my favourite .."You're getting too big now, maybe start hiding the stomach a bit.." I say LOL!! Why should I compromise on my dressing style just because I'm pregnant? It's the MOST beautiful phase of my life, and I'd like to look as beautiful as I feel during this time! And yes, I'm a PROUD big pregnant woman and I'm not afraid or ashamed to flaunt it! Coz let's face it, it's not gonna last forever!"
While this is the case with Television actress, Bollywood actress too have been on the radar on trolls for fat-shaming. From Aishwarya Rai Bachchan to Kareena Kapoor Khan, many actresses have been the target of the trolls for the post-pregnancy weight. But all have had befitting replies to give like true boss ladies.
More power to these ladies.
Image Source: Instagram