Post Abhimanyu Chaudhary-Aansh Arora's Aggressive Outburst In Public, TV Actors Helly Shah, Nishant Malkani, Shubhaavi Choksey, And Kinshuk Vaidya React On Celebs Losing Temper
Of late, we saw instances of TV actors like Abhimanyu Chaudhary and Aansh Arora getting aggressive in public place and attacking employee staff at salon and restaurant. Now, several TV actors have lent their reaction on the scenario of celebs losing their cool in public places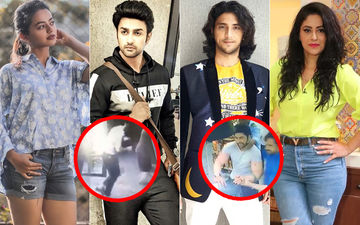 A few days ago, Actor Abhimanyu Chaudhary was arrested when he attacked a Salon employee in a fit of rage to express grievance in support of his friend. The duo went to the salon after the actor's friend accused an employee of the salon of touching her inappropriately. Last month, actor Ansh Arora attacked restaurant staff in Ghaziabad when he didn't get served on time.
Talking about the same, TV actors shared their views on celebrities losing their temper publicly and how they should have reacted instead.
Sachin Parikh
I believe when actors are called public figures the perspective of their life changes. They have to behave in a certain way and be responsible as a public figure in every given situation. At any point of time from losing temper or getting into any criminal or unlawful activities might not be the best solution. You have to pay the price then, whatsoever must be the circumstances. One has to be alert and mentally prepared for the repercussions.
Bhanujeet Singh Sudan
Physical violence is not good, it is a crime. It doesn't matter whether you are a public figure or not. I am strictly against physical violence, I do not support it. Talking over it and not getting into fights is what a person should do. When a celebrity does it, people are definitely going to talk about it. They should be really aware of what they are doing. I don't mind saying sorry first. I don't really like getting into fights, so I avoid it personally.
Ira Sone
It's disappointing to read about such unpleasant scenarios, especially abusive and violent conduct coming from an actor. We, actors, have a social responsibility as the masses get influenced by our conduct and lifestyle and we must use this power to make a positive impact instead of acting inappropriately in the heat of the moment.
Rehaan Roy
An actor should understand, first, he or she is a human being, then an actor. They should never forget that their position is because of these common people. When one becomes an actor or a star to be precise, they get a lot of fan love, fame, money. Along with all these, they also have a responsibility to influence others. An actor is someone who people look up to. They should understand, it's his responsibility to maintain his public image. Having said that, I'm not saying to be fake. Stay real, but understand your responsibility towards society.
Rahul Sharma
Yes, as actors we should be in our limits. We should consider that whatever the situations are in, we have to be calm and cool. Sometimes it definitely happens that you see someone doing something which is wrong, maybe they are insulting you or abusing you or physically hurting you, then, of course, you won't stand and watch it. But other than that, the other cases should be tackled in a good way. You can sort it out by talking. I feel that we are a public figure and we need to be up to the mark, we should set examples which people should follow.
Kinshuk Vaidya
Such things keep on happening but again celebrities doing such things is actually not acceptable. The way Spiderman says 'With great power comes great responsibility', so basically, when you are a celeb, people look up to you. You are an influencer, you influence their thinking, behavior, etc. They start living like you, they try to replicate you. So, you should work on your temper so that in actual life also you don't end up behaving like this. Keeping cool is important. Personally, when I got out at a place and I don't like their services I am not that complaining kind of a guy. I just get up and walk out of that place and if the frustration level is quite high, I just post a story or a tweet of having a bad experience. Getting physical and abusing someone is not something I agree with. I strongly oppose such actions.
Sahil Anand
I feel these days actors are not patient at all. They have a lot of attitudes is what I feel, maybe I am wrong but I feel it. Actors get such kind of treatment that they feel that they are really special but when they are not treated that well, somewhere else they go mad about it. So, I feel that's the sole reason for it. They should keep themselves on ground 'Hawa me na udey jyada'. Things which happen with normal people will happen with them as well, so just be humble and down to earth.
Angad Hasija
For me, it's a very weird thing because it's bad for an actor's image. I have never seen any of my friends misbehaving who are also actors, in fact when we go out, we behave better with the staff. For example, I am in Manali and I am shooting here and everyone knows how popular TV actors are in the North, they are crazy about actors. So, the staff here attends me so well, they come to my room many times to ask if I need something. Many people like clicking selfies with me so at that time I am more humble with them because I feel that before being an actor, you are a human first. Giving respect is very important whether you are an actor or not. Violence looks so bad.

Jason Shah
I feel sorry for the person who was attacked. Whoever this actor is or whichever other actors have attacked anybody, it's definitely not a good thing. Each individual has been given the freedom to do what they want and also the responsibility to manage the consequences for their actions. In this world, it's not permitted. It is against the law to raise your hand on anybody for whatever reason it may be. Being an actor does not give you the right to do such things. Strong action should be taken against it. Celebrities obviously have to maintain a humble attitude, they have to realize that even a small action might become a big action because of the popularity they have.

Nishant Malkani
As far as what I know about Abhimanyu Chaudhary, he attacked a salon employee but not in a fit of rage but because his female friend was being molested. If that is true, then Abhimanyu Chaudhary or any other man should step up and stop that act from happening even if it means getting physical with that person, who is committing that horrible thing. On the other hand, if that is not true and if it was just some kind of rage to express grievances, I would say it's absolutely wrong. It's all very subjective when should a man step up and raise his hand if he is doing in defense and for the dignity of a woman, I think it's absolutely justified.
Rohitashv Gour
Actors should control their temper. We got to know that whatever these actors have done was because their friend was troubled by someone, so a situation like that obviously anyone would get angry and might react. But because of being an actor or a celebrity, we should be careful as we tend to come in public eyes. So, in a situation like this, we should take help of police because otherwise, people think that just because we are actors we are trying to act over smart without knowing the scenario. So, an actor should try and be calm and deal with the situation intelligently, instead of reacting to it.
Helly Shah
I feel not only celebrities but everyone should have control over their actions. Violence is totally not accepted at all. I don't know what exactly has happened but I am sure that justice will be done. As a public figure, actors have to be careful about their conduct. One must live a balanced personal and professional life.
Gaurav Gera
I personally think actors are also humans but they come with a responsibility of behaving in a certain way because they are a social figure, anger happens but as a public figure, you should just think and react to it.
Krishna Bharadwaj
I don't know both sides of the story and without knowing it I cannot comment on anything. Being a public figure, I have a huge responsibility on my shoulder that I have to conduct my behavior in a certain way. As a public figure, I know the responsibility I carry on my shoulder to behave in a certain way.
Malhar Pandya
I seriously don't know why people lose their temper if they are outside. It doesn't matter that you are a celebrity or not. I feel that if we go out somewhere for dinner and we don't get on time service, there might be a reason behind it. If I am paying someone for a service that doesn't mean that they are my slaves, so as a human being, you need to understand some things. On Saturday or Sunday mostly wherever you go you will see there is a lot of rush everywhere, so in that case, you have to understand. I feel that at such situations, ego arrives, the more you don't allow your ego to arise, the better you'll be.
Shubhaavi Choksey
I don't know exactly what the matter is and as I was not present there, so I don't know if the guy was actually right or wrong. You have no idea what happens on spur of the moment. It's like I am driving my car and there is bus who has cut me twice or thrice, so it's obvious to get angry if I have my kid along with me but because I am a celebrity and if I get out and shout at him, it will become a headline. So, I really can't comment on this. Irrespective public figure or not you can't get violent with someone.
Yesha Rughani
I strongly believe that it doesn't matter who you are but your actions generally reflect on what you are as a person. So, for me, actions are at most priority and how you behave in public or in general, it talks a lot about you. So losing your calm and taking charge over things which probably could be avoided or handled in another way and especially taking your anger and frustration on people who you consider lower than you, is not right. I think for anybody to behave in a certain way is not a pleasant sight to me that's my personal opinion.


Image Source:- Instagram/gauravgera/kriish_bhardwaj/malharpandya09/yesharughani/sachinparikhofficial/shubhaavi/kinshukvaidya54/nishantsinghm_official/hellyshahofficial/_j_k_s_/angadhasija/sahilanandofficial/rahullsharma/rehaanroyofficial/sone_space/bhanusudan
They say the best things in life are free! India's favourite music channels 9XM, 9X Jalwa, 9X Jhakaas & 9X Tashan are available Free-To-Air. Make a request for these channels from your Cable, DTH or HITS operator.