Saroj Khan Death: When The Legendary Choreographer Left Kareena Kapoor Khan In Complete Awe With Her Nazakat On DID 9 Sets - WATCH
Saroj Khan is no more. Here's an old video of the legendary choreographer when she danced on Hum Ko Aaj Kal Hai song leaving Kareena Kapoor Khan in complete awe on Dance India Dance sets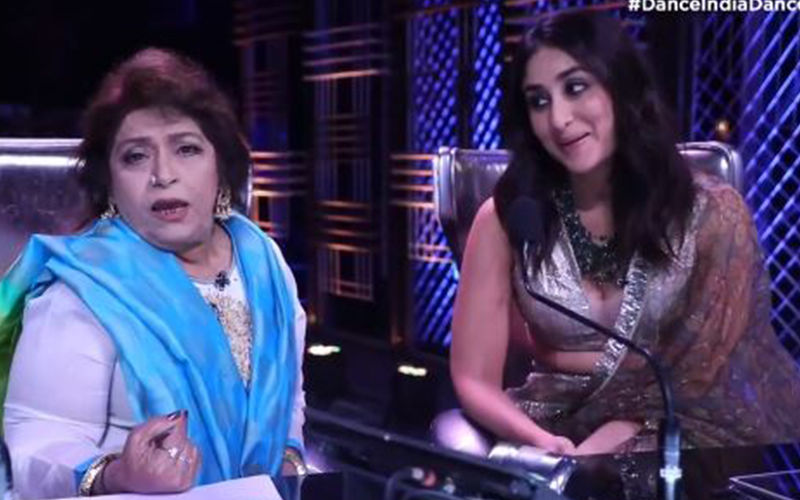 Saroj Khan left for her heavenly abode on July 3, 2020 at the age of 71. She was one of the finest choreographers Bollywood has ever seen. As we all mourn her death, here's a throwback video of the legendary choreographer with Kareena Kapoor Khan from the sets of Dance India Dance 9. Kareena is the queen of expressions, however, Saroj Khan left her totally amazed as she danced on Madhuri Dixit's song Hum Ko Aaj Kal Hai. The song was choreographed by Saroj Khan herself.

Here's the old video. Saroj Khan can be seen seated on her chair in the judges' panel with Kareena Kapoor Khan seated next to her. As the song plays, Kareena tries to pull off some expressions but it is Saroj Khan who steals the show. Bebo can be seen in complete awe as Saroj Khan perfectly emotes every lyric of the song. Hum Ko Aaj Kal Hai featuring Madhuri Dixit is one of the most popular songs of Bollywood till date, and it is Saroj Khan who deserves all the credit for it.
Check out the video here.
While at the show, Kareena Kapoor Khan also shared an anecdote from the days when she worked with Saroj Khan. Bebo revealed how difficult it is to impress the veteran choreographer. "It is very difficult to impress her (Saroj Khan)! During the shoot of Refugee, Masterji told me that you don't know how to move your hands and legs, how did you choose to become an actress! You are Karisma's sister. I told her (Saroj Khan) but I don't know how to dance, Masterji. She then told me if you can't move your hands and legs you need to dance with your face. She used to ask me to observe her closely and watch her face when she used to perform an entire song with her expressions. This is the reason why every heroine has become a heroine today- It is only because of Master Ji's expressions. That's all!," said Kareena.