SHOCKING TWIST! Anupamaa SPOILER: Ladies Cross Paths With Pakhi-Adhik In The Resort, Baa Calls Pakhi 'A Prostitute'
In the upcoming episode of Anupamaa, the ladies will learn about Pakhi and Adhik staying in the same room and therefore Baa call Pakhi a prostitute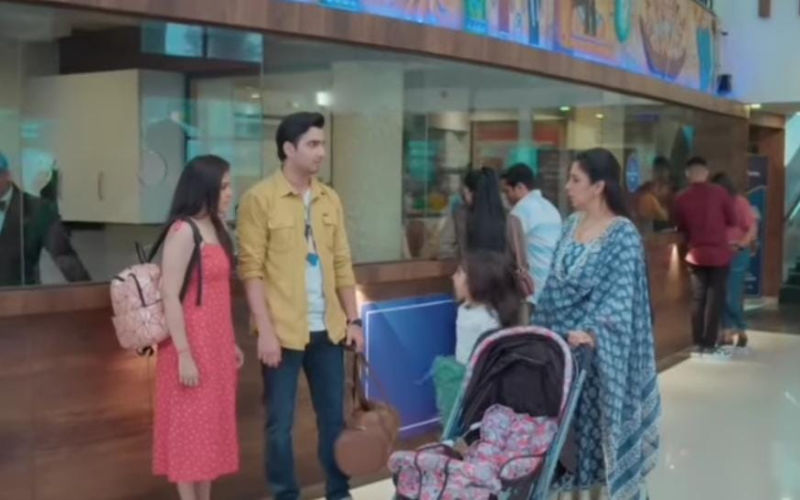 Anupamaa is the most loved show on Star Plus and fans don't even miss a single episode of the show and even watch it on repeat. The show has garnered adulation for its content. The current narrative is quite interesting as all the ladies except Pakhi have gone to celebrate Leela's (baa) birthday in a resort and all the men at chilling at Shah's house.
In the recent episodes, we saw Pakhi giving an excuse for not going with the girl gang to celebrate baa's birthday in the resort and going with Adhik to spend some quality time. Interestingly, Pakhi-Adhik and the girl gang lands in the same resort, however, neither of them are aware of the same. Everyone including baa and Anupamaa is having a gala time at the resort. When Adhik-Pakhi were about to leave the resort they cross paths with the ladies. Anupamaa, baa and all the girls were shocked to see them together.
In the upcoming episode, Anupamaa loses her cool and questions Pakhi about her doing. Pakhi on the other hand is not ashamed of spending time with Adhik in the same room. She even justifies saying that she is in love with him that she is an adult and knows what to do. She even tells her mother Anupamaa to not give 'lecture'. Anupamaa is angry with Pakhi for lying and staying with Adhik. Baa is very angry with Pakhi and she too lashes out at her. Pakhi and Adhik hold each other's hands and declare that they are madly in love and want to get married. Pakhi affirmed Anupamaa and all the ladies that she will tie the knot with Adhik only at any cost.
Meanwhile, Baa tries to call Vanraj to tell him about Pakhi, but she convinces baa to not tell him anything on phone and that they will discuss it once they reach home. Pakhi also gets frightened to know what will happen if Vanraj gets to know about it.
When the ladies reach Shah's house, Vanraj is stunned to see Pakhi with them. Baa tells Vanraj about Pakhi's truth. She faints as she is not able to bear what Pakhi has done. She cries her heart out and even calls Pakhi prostitute for staying in the same room with a stranger.
The upcoming episodes are filled with twists and turns and high-voltage drama. Let us see what happens next.
Image Source: Instagram