Surveen Chawla's Pyjama-Themed Baby Shower Was A Real Treat, Her Glow In The Pictures Is Proof
Seems, Surveen can't wait till April. Her first baby is two months away and her excitement was so visible at her baby shower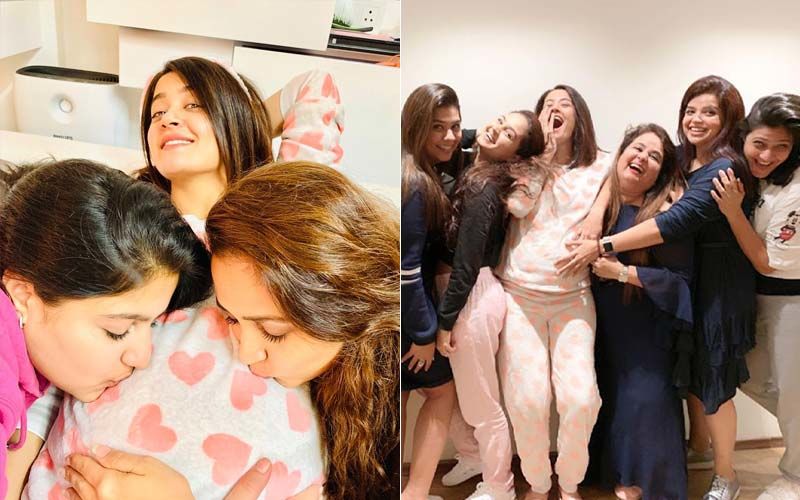 Surveen Chawla who is eagerly waiting for her first baby is
enjoying her pregnancy phase to the fullest.
What makes us say that? Well her latest photos on social media where we see the beautiful actress enjoying her baby shower with loved ones!
The actress who is in her last trimester, had her baby shower ceremony recently and today decided to treat her fans with a glimpse of how much fun it was. She has taken to her Instagram to post pictures and captioned,""Hahahahahahahahahahahaha and all hearts #candid @sharadkelkar @gazala24 @iamnehap @meghnachitalia @keertikelkar @vishasuchde @bunnysanghavi @umitaishika Pic Courtesy: #candid by @faisal_miya__photuwale" and "So much love and more for the little heart ... @iammuskaanp @gazala24".
Surveen's baby shower ceremony was different, it was a pyjama-themed bash wherein the Mommy-to-be basked in glory in her night- suit. "The get-together was all about fun," says a sourcem
While announcing her pregnancy, Surveen
had told Bombay Times, "It's a beautiful feeling and more so, as it has come completely unexpected for Akshay and me. Suddenly, life has become beautiful. I am looking forward to every step now. Of course, it's unfamiliar territory, but the only one that comes with a guarantee of being wonderful. Akshay and I feel really blessed!"
The Hate Story 2 actress had also added , "Honestly, initially, the fear of change engulfed me, but later, the beauty of it all started sinking in. Now, I feel like I am embarking on a new journey and adventure of sorts. I don't know how many women will tell you the truth, but the reality is that motherhood is a slow, gradual process. Motherly instincts are not born out of nowhere. Motherhood, to me, is a feeling that grows on you, with the growing life inside you. I think just the fact that women are designed to grow a whole being inside them is a far more superior feeling."
Surveen is due in mid-April. We wish her lots of happiness and success in her personal and professional lives.


Image Source: Instagram/surveenchawla