The Kapil Sharma Show Uncensored: Here's How Govinda's Wife Sunita Ahuja Reacted After A Female Fan Flirted With Him-Watch
Kapil Sharma shared a new 'uncensored' clip from the episode of his show 'The Kapil Sharma Show' featuring Govinda and his wife Sunita Ahuja on his YouTube channel.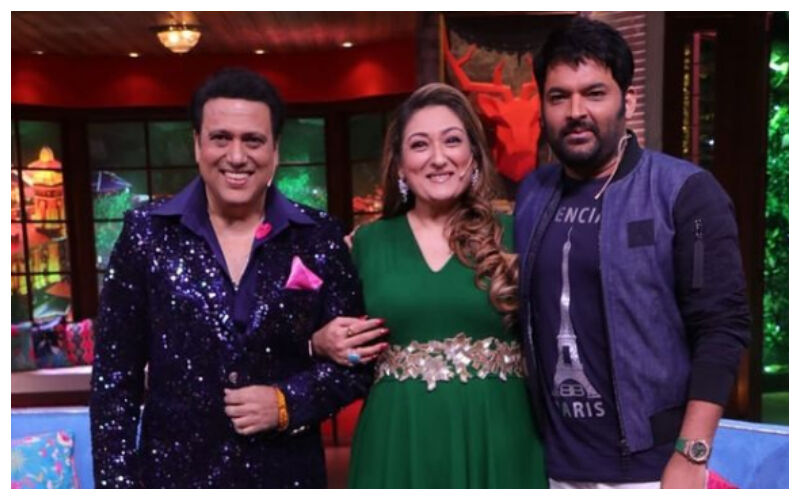 Govinda and his wife Sunita Ahuja recently appeared on the popular comedy show 'The Kapil Sharma Show' and needless to say, the couple was at their candid best. The episode was a laughter riot for the audiences as both Govinda and Sunita entertained viewers with their hilarious antics. Much to the fans' delight, the makers have now dropped a new 'uncensored' clip from the episode, showing how Sunita left everyone in splits with her reaction to a fan flirting with Govinda.
In the clip, host Kapil asks Govinda how he would respond if he was speaking to a female fan on the phone and Sunita asked him about it. "Pooche toh na! Poochti hi nahin hai (She should ask first, she never does)," Govinda replies, and she says that her response to such a situation would be, "Lage raho Munna bhai (Keep at it)."
Later, Kapil points out to a woman in the audience and tells Sunita, "Flirt kar rahi thi Govinda sir ke saath (She was flirting with Govinda)."
Sunita's response leaves Govinda and Kapil in splits. "Itna door baith ke (From so far away)?" she asks.
Govinda also reveals that in the initial days, he would have fights with Sunita about her short dresses. The actor says, "Kahaan main 24 lakh Gayatri mantra, 50 lakh Mahamrityunjay kiya vyakti, 3-4 ghante pooja karta tha, toh maine kabhi socha hi nahi yeh (I am a man who chanted the Gayatri mantra 24 lakh times and the Mahamrityunjay mantra 50 lakh times. I would pray for three-four hours every day, I never expected this)."
However, Sunita describes herself as a 'Bandra girl' and points out that Govinda was from "Virar." He teases her as 'Bandra ki Sandra'.

The episode featuring Govinda and Sunita was aired earlier this month.
The next celebrity guest to appear on the show - the upcoming weekend - is Karisma Kapoor with her father Randhir Kapoor.
Image Source: Instagram/ /officialsunitaahuja/