TV Industry Reacts On Mira Road Attack On Ekta Kapoor's Show: Shubhaavi Choksey, Angad Hasija, Sahil Anand Express Disappointment
The recent attack on sets of Ekta Kapoor's show has taken the TV Industry by storm and the actors are absolutely furious. Here's their take on the heinous incident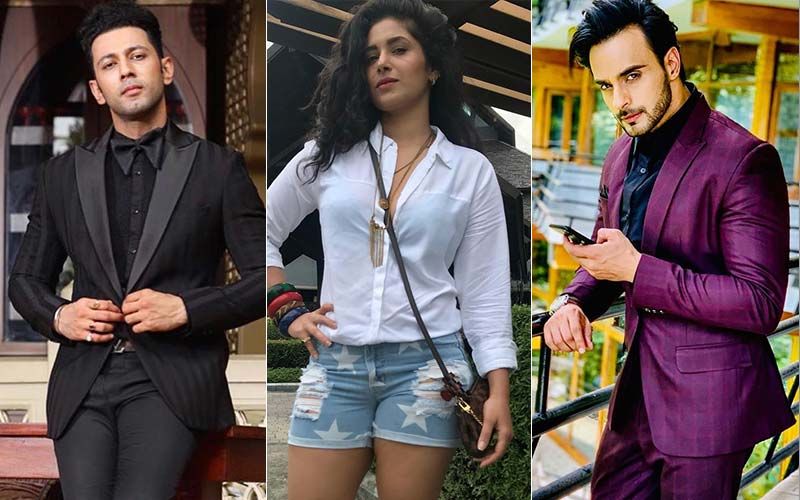 Recently a plethora of people gate-crashed, lynched on the sets of a web-series 'fixer'
, what is your take on this? Do you feel that some stringent action should be taken against this, a couple of incidents like these have occurred in the past? The cops are allegedly involved in this matter, so here the protector is the perpetrator. What is your take on this and what measures should be taken henceforth to avoid such situations, and what is the solution?
Angad Hasija
It is a very strange thing for me because most of us shoot in the outskirts of Mumbai. This is very disheartening and very uncalled for. The whole crew has suffered a lot of injuries, the security should be increased. And, definitely, there should be some strict action taken against the hooligans. Because if this incident is taken lightly then there are chances that the risk for others might increase. And I didn't know that the cops are involved in it too. And I think some strict action should be taken against all the people who are involved. A sense of safety should prevail amongst the actors and crew.
Sahil Anand
I know saket very well. He is a dear friend of mine. And after talking to him, I got so infuriated that some random hooligans enter into the set and create chaos for no reason? These people who consider themselves as some bigshot of Mumbai should be punished strictly. And an example should be set, by taking this action. They might think that they can randomly come and disturb the atmosphere in a place where 100-120 people are working. And they consider this profession to be a joke which is considered to be one of the most prestigious professions in the world. A lot of money, time and effort goes into it. The amount of money that goes behind one day of shoot, is something that they cannot earn in their lifetime. And the government should take some strict action against the hooligans and set an example for the people who have the same polluted mindset as theirs. They should be jailed for minimum 6 months, And yes if these people have the guts to do this then that is definitely due to the police. I hope they render their duties honestly.

Shehzad Sheikh
I think gate crashing is a crime and in our country also people are doing so and getting away and no one is punished. This is not only related to the film industry but is a message for everybody out there. Everyone should take this matter very seriously. This is not a small problem that a solution can be proposed and would be acted upon as it involves the people, the upbringing, the entire background, and the characters and thousands of people who require the change. If we had a country that believed in absolute safety and leaves and let be then they wouldn't even need the cops and security. Therefore, it requires a change in mindset, the respect at ground level and the freedom and independence of artists. At the end of the day, they should get their security tightened.
Shubhaavi Choksey
I don't think anybody has the right to intervene like this. Secondly, If there are women around so I think no one should ever even try to harm or chase or raise their hand on a woman. Period. I think before barging in and physically hitting people they should have verbally asked. It is not because I am a part of this fraternity so I am saying this, In general, action should be taken when something like this occurs. And, absolutely there should be an action taken and there has to be written dialogues for everybody and that should be mandatorily followed. And I think the measures must have been taken because it was being made under Balaji. It is not like a normal person who is trying to save money and is shooting for some short film or any personal video. Balaji Telefilms has been in the business for such a long time. they know what permissions to take or whom to talk to. So I don't think they must have started shooting there without seeking consent from the substantial authority. And there should be some strict action taken against this. And I am saying this an actor, our bread and butter depends on our face. What if by mistake something would have happened to her face. Then what would that person do?
Kinshuk Vaidya
It is very sad. Because as an actor I know the amount of money and the effort goes in for making a show. What happened is very unfortunate and very uncalled for. No one has the right to directly go in and physically harm anyone. And this is not the right way to express your anger. They should have approached the court but no one gives anyone the right to damage someone's property or harm someone. I hope that the people who are responsible should be taken into remand, and the security should be increased in order to avoid such attacks.
Malhar Pandya
It's not a good thing which has happened and as an actor, it could have happened with me too. The only thing is that if the shooting happens in Mumbai or outside if the policeman is not doing anything, that's the reason they have made that awareness video which has gone viral. The government should do something about these types of local goons and should make sure that the police are performing their job well. If the police would not do anything that where will the people go? I am not the one who can decide about their punishments, but as a human and as an actor, I would say that they should get justice. They should be ashamed and scared of harassing a lady. If you respect your mothers and sisters then definitely you would respect to all the ladies out there. If the police will become the perpetrator then where will the people go. The government should see such situations and should take the next step. Strict actions should be taken by the government against the officers who have supported this so that such situations do not happen again.
Image Source: Instagram/malharpandya09/kinshukvaidya54/shubhaavi/shehzadss/sahilanandofficial/angadhasija