Urfi Javed Apologises To Chahatt Khanna For Commenting On Her Two Divorces During Their Ugly Fight; Says, 'I Was Wrong, It's Very Low Of Me'
Urfi Javed states it was 'very low of her' to comment on Chahatt Khanna's two divorces during their nasty online fight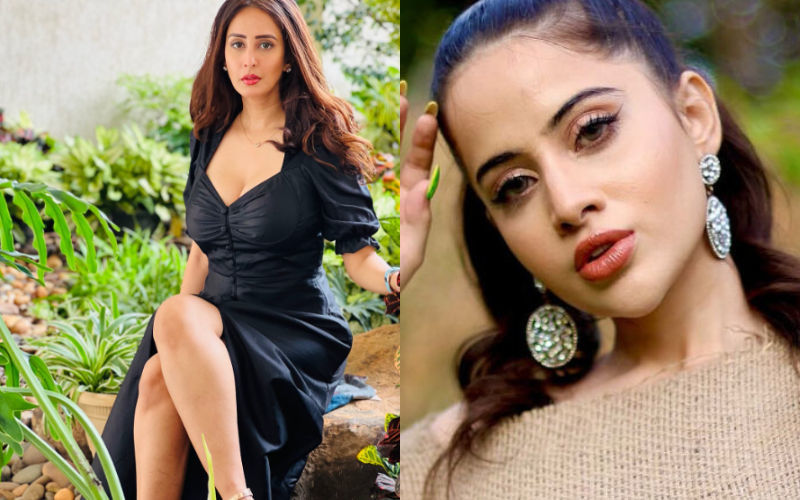 Urfi Javed and Chahatt Khanna recently got into an ugly fight on social media. Both the actresses hurled insults at each other. It all started when Chahatt insulted Javed's outfits and called it 'vulgar.' Not just that she also shamed Urfi, asking, if 'anyone would remove their clothes and the media makes them a celebrity. Hitting back at her, Urfi Javed said she is 'jealous' of her and mocked her two divorces. However, the Bigg Boss OTT fame actress has not apologised to Chahatt for dragging in her divorce during their fight.
On Tuesday, Urfi was spotted going out and about in the city when she shared her reaction to her online fight with the 'Bade Achhe Lagte Hain' actress. Speaking to the media, Javed said it was wrong on her part as she should not have commented on her two divorces, it was very low of her. The actress said, "I think I was wrong, I shouldn't have commented on her two divorces. It's very low of me. No matter what anyone says, I should keep my calm. I should stand for what I believe in, puri duniyaa comment karti hai. It was wrong." ALSO READ:
Chahatt Khanna REVEALS Why She SHAMED Urfi Javed: 'It Was Getting Really Tough To Tolerate This Nonsense Happening For Months'
Earlier, while criticizing Urfi Javed, Chahatt shared a photo of her and wrote on her Instagram Stories, "Who wears this? And on streets? I mean anyone would remove their clothes and the media makes them a celebrity? Is Indian media so vulnerable? It's easy to buy this cheap publicity and media, this cheap show you'll are promoting to our generation. Anyone would pay for spotting and do anything or even go nude and you'll will carry? This is obnoxiously sad!! God bless you with some wisdom."

After this, Urfi lashed out at Chahatt for judging her. She penned a note that read, "I was dressed for an interview which is non of your business, you're just jealous that even after paying the paps they are not covering you. @chahattkhanna also whatever anyone does on this earth is none of your business, why didn't you upload this story for Ranveer Singh? Shows your hypocrisy. See I didn't judge you for your TWO divorces, dating away younger men so why judge me?"
Khanna has reportedly blocked Urfi on Instagram after their nasty spat.