VIRAL! Urfi Javed Gets An EPIC Crossover With Amitabh Bachchan's Sooryavansham Scene And It's Just Too Hilarious! Trolls Goes Nuts With Creative-WATCH
Urfi Javed got an unexpected crossover with Amitabh Bachchan's Sooryavansham and the internet cannot stop laughing over this hilarious meme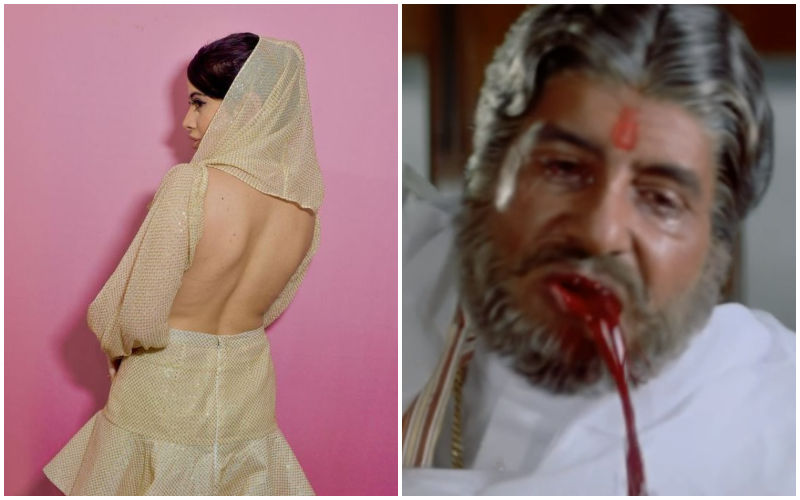 Urfi Javed has been making waves with her unique fashion sense and she has emerged as a social media sensation owing to the same. Interestingly, she has also become a 'hot' topic, among the fashion connoisseur and has inspired several content creators to test their creativity and brew up some of the most hilarious memes.

Now, one of the viral memes has gained traction on social media and it features an unexpected crossover with Amitabh Bachchan's much-popular film Sooryavansham.
Speaking of the viral video which was shared by a meme page featured Urfi in a rather unexpected avatar and she can be seen sizzling in a golden outfit. The Bigg Boss OTT contestant received a rather strange and unexpected comment from a user who wrote, "Sanskar umar se bade hai iske."
Later, in the video, Urfi can be seen flaunting her back in the outfit which was full of cuts and Amitabh Bachchan's character can be seen reacting to the same with zehar wali kheer face.
Urfi Javed made a brief appearance on Bigg Boss OTT, however, she became a household name for her unusual fashion sense and it seems social media cannot stop talking about her style statement. She was recently slammed by Sunil Pal for her avant-garde outfits. He and even called her 'paagal'.
Calling out the 25-year-old fashionista, he said, "ye Urfi Javed pagla gayi h kya(Is Urfi Javed out of her mind?) I would like to thank the woman who complained against Uorfi. I think Urfi wants to do something so that she can come into the discussion. Even if it's illegal. Wearing less clothes, took the name Urfi Javed. I don't like the way she is playing with our holy Muslim name."
Urfi previously gave her trolls a befitting response by posting bold and risqué pictures of herself, as she wrote: "Shameless but pretty. Also, the definition of decency, vulgarity differs from person to person. For some people it's showing kegs , for some it's wearing bikini, for some it's just Uorfi Javed. So I decided to not listen to anyone. Be my own judge. If what I put or don't put on my body bothers you, go f*ck yourself!"
Image Source: Instagram